Arab Bank PLC Trial 2014: Why Hamas Victims Target Banks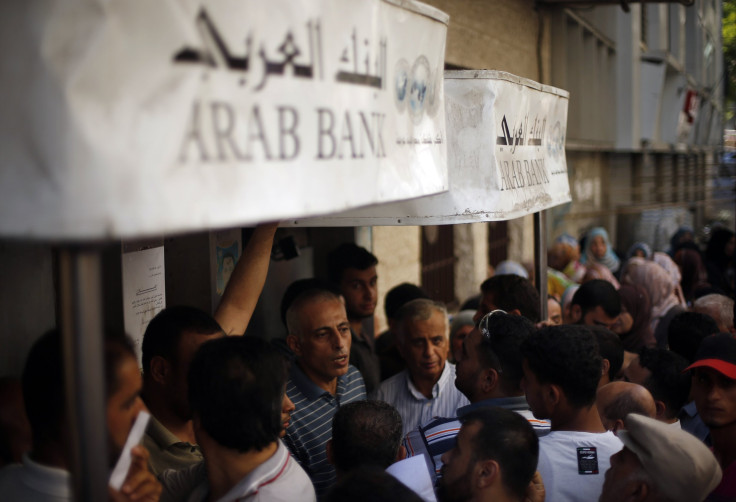 Arab Bank PLC (AM:ARBK) may be highly decorated -- in 2013 it was named Regional Bank of the Year by Arabian Business, and it has won Euromoney's Best Bank award for six years straight -- but it's also on trial for terrorism charges in New York City. And this isn't the first time.
This week, some 300 plaintiffs are suing the 84-year-old bank, founded in Jerusalem and today operating more than 6,000 branches in 30 countries, for allegedly providing material support to the Palestinian group Hamas that led to a series of suicide attacks between 2001 and 2004. The case has been moving through New York civil courts for almost a decade.
It's not the first time victims and their relatives have sued a bank for terrorist activity. While this will be the first suit to go to trial, there are dozens currently moving through the system.
"You're not going to sue the terrorists, because they have no assets," said Jimmy Gurule, law professor at the University of Notre Dame, who formerly worked at the U.S. Treasury Department, where he helped develop the strategy to combat terrorist financing.
The U.S. Anti-Terrorism Act allows for victims of attacks from any designated foreign terrorist organization to seek compensation. Hamas was added to the United States list of designated terrorist groups in 1997.
Gurule said that plaintiffs have a few options to attempt to gain monetary compensation. Victims can try to sue state sponsors, which has happened before, but foreign governments are not inclined to show up in civil court, and few have substantial assets in the United States to be seized.
"So who's next? The bank," Gurule said.
With a branch on Lexington Avenue in Manhattan, Arab can be sued in civil courts, which is exactly what Courtney Linde and dozens of other victims and their relatives did in 2004.
In their 2004 complaint, they sued for damages due to Arab Bank "knowingly administering the distribution of financial benefits to terrorists, the families of terrorists and Foreign Terrorist Organizations as part of a scheme to encourage and facilitate acts of international terrorism," as defined in the Anti-Terrorism Act.
They say it helped facilitate a kind of benefit plan for members of Hamas and families of suicide bombers during the three years prior.
The parents of Izz Ad-Din Al-Masri, a suicide bomber who killed 15 people in Jerusalem in 2001, told NBC News in 2005 that they were told to open an account at Arab Bank to receive a salary afterwards, and soon began receiving $140 a month.
"It's our contention that Arab Bank played a central role in facilitating and financing that long march of Hamas not only to take over the Gaza Strip but [also] to make possible the terrorist attacks that injured the plaintiffs," Gary Osen of Osen LLC, who represents the plaintiffs, told the Wall Street Journal.
The bank's representatives argue that it had no way of knowing that these activities were taking place.
"Arab Bank had reason to believe these were humanitarian payments or social welfare payments, and there was certainly nothing in any of the public information that suggested to the bank at the time that these were in any way [meant] to induce terrorism or reward terrorism," Robert Chlopak, a bank spokesman, told the L.A. Times in 2005.
An Arab Bank representative could not be reached for comment, but the bank has previously said publicly that it "has great sympathy for all victims of terrorism but is not liable for the tragic acts described by the plaintiffs."
Arab Bank and other banks have already fought similar lawsuits. In 2012, for example, an Israeli-American citizen who was wounded by terrorists four years earlier filed a claim against the bank, but it was dismissed by U.S. District Judge Jack Weinsten, who concluded that "Hamas is not the defendant; the Bank is. And the evidence does not prove that the Bank acted with an improper state of mind or proximately caused a plaintiff's injury."
Osen LLC also represents a group of more than 30 families suing Crédit Lyonnais, a French multinational bank, for providing banking services to CBSP, a organization that raises funds for Hamas.
There are dozens of other cases like this in the works, Gurule said, but this one is important because it's the first to ever go to trial and will set the precedent for cases that come after. Specifically, the judge's interpretation of certain sections of the Anti-Terrorism Act will show exactly how careful banks need to be, and how much blame they hold.
"There is a lot riding on this cause, the outcome could have very important implications," he said.
FOR FREE to continue reading
✔️ Unlock the full content of International Business Times UK for free
offer available for a limited time only
✔️ Easily manage your Newsletters subscriptions and save your favourite articles
✔️ No payment method required
Already have an account?
Log in
© Copyright IBTimes 2023. All rights reserved.