Arab unrest spreads to Morocco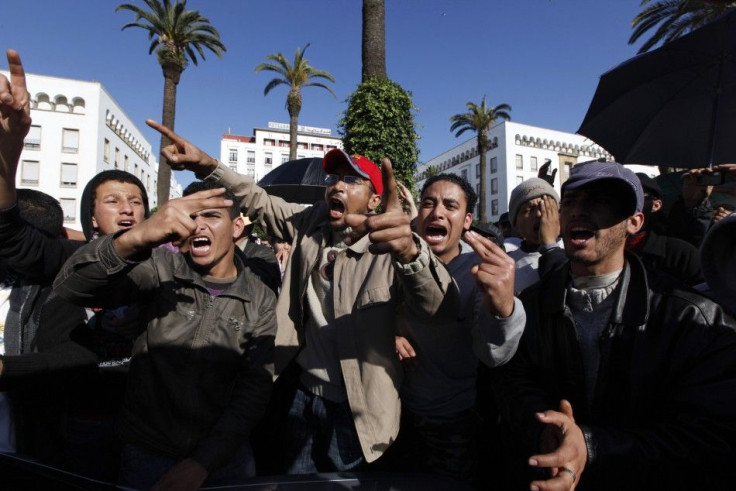 Political unrest in the Middle East has now spread to the westernmost outpost of the Arab world, in the North African kingdom of Morocco.
Thousands of people have demonstrated peacefully in several Moroccan cities to demand that the ruling monarch, King Mohammed VI, reduce his powers through changes in the constitution, dismiss his government and eliminate corruption. (They are not seeking the king's resignation).
Demonstrators included human rights groups, leftist and Islamist groups, trade unionists and advocates for the Berbers.
We no longer want to be subjects, said Abdelilah Benabdeslam, a leader of the Moroccan Human Rights Organization. We want to be citizens.
In the city of Rabat, the nation' capital, Rabat, protesters rallied near the parliament building, chanting slogans like The people reject a constitution made for slaves!
The people want a new constitution, some protesters chanted, waving banners of Egyptian and Tunisian flags. This is a new Morocco.
Similar protests have reportedly taken place in Casablanca, Marrakesh, Tangiers, Fez, and Aghadir all organized by an umbrella group of opposition forces called the "February 20 Movement for Change."
The country's finance minister Salaheddine Mezouar urged Moroccans not to march, saying that any slip may, in the space of few weeks, cost us what we have achieved over the last 10 years.
Morocco enjoys more freedoms than other Arab countries – it has an elected parliament and a reform-minded monarchy. Moreover, the economy is flourishing and the government recently agreed to double subsidies.
Meanwhile, many Moroccans revere the king, whose dynasty has ruled the kingdom for 350 years, claims a direct line of descent from the Prophet Muhammad.
Most of what these people and organizations are calling for has been on the political scene for quite some time - political change, freedom, reform, change in the constitution, analyst Abdelhay Moudden told the BBC.
© Copyright IBTimes 2023. All rights reserved.