Arctic Sea Ice Coverage Sets Record Low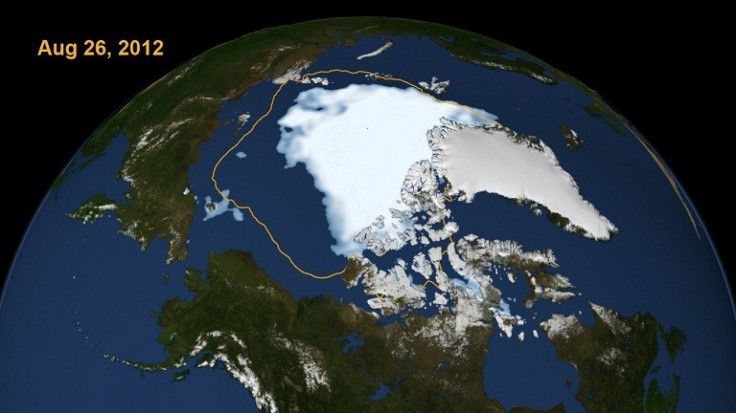 A new world record has been set near the North Pole - but scientists aren't celebrating.
On Sunday, the total amount of sea ice covering the Arctic Ocean was 1.58 million square miles, the smallest size ever observed by NASA satellites since the space agency began monitoring earth's polar ice caps 30 years ago. Sunday's Arctic sea ice coverage also beats the previous record of 1.61 million square miles set in mid-September 2007. That's a difference of 27,000 square miles, an area just a bit bigger than West Virginia.
NASA researcher Joey Comiso said in a statement on Monday that unusually high temperatures are not to blame, as they were in 2007.
"The persistent loss of perennial ice cover -- ice that survives the melt season -- led to this year's record summertime retreat," Comiso said.
NASA satellites have seen the minimum summertime sea ice coverage decline by 13 percent over the last three decades, along with a decline in sea ice thickness.
Arctic sea ice isn't the only area that's setting melting records. Earlier in August, scientists said they'd determined that Greenland's ice sheet has been melting with unprecedented strength. NASA also announced in July that its satellites had found that about 97 percent of the ice sheet's 660,000 square-mile surface had undergone melting.
And with several weeks still remaining in the melt season, Sunday's record low will likely continue to drop.
"By itself it's just a number, and occasionally records are going to get set," NSIDC research scientist Walt Meier said in a statement. "But in the context of what's happened in the last several years and throughout the satellite record, it's an indication that the Arctic sea ice cover is fundamentally changing."
Cambridge University ocean physics professor Peter Wadhams offered an even grimmer picture in an interview with the BBC on Monday.
"This means an inevitable death for the ice cover, because the summer retreat is now accelerated by the fact that the huge areas of open water already generated allow storms to generate big waves which break up the remaining ice and accelerate its melt," Wadhams said.
The implications, Wadhams told the BBC, are serious.
"The increased open water lowers the average albedo [reflectivity] of the planet, accelerating global warming; and we are also finding the open water causing seabed permafrost to melt, releasing large amounts of methane, a powerful greenhouse gas, to the atmosphere."
© Copyright IBTimes 2023. All rights reserved.