Argentina's Debt Tango Moving To New York Next Week As Two Sides Seek To Avoid Default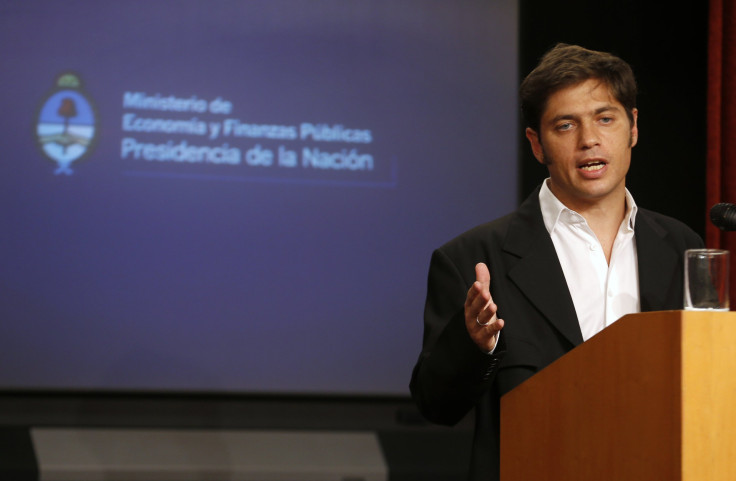 Argentina is famous for its tango, but this week the emotionally charged and dramatic moves aren't on the dance floor but in the courtrooms and boardrooms in Buenos Aires and New York.
The financially strapped South American country that on Monday was told by the U.S. Supreme Court that it must pay holdout creditors on some of its debt, on Tuesday said it was looking to refinance away its problem, and by Wednesday had reached out once again to calm the waters and avert a default.
After an economic and legal standoff that's lasted more than a decade, the U.S. Supreme Court on Monday told Argentina to pay $1.5 billion to bondholders at New York hedge fund NML Capital.
In a first move after the court ruling, Argentina floated a plan and took the first steps toward refinancing the debt in such a way as to void the U.S. court's jurisdiction over the bonds and allow it to continue to pay other creditors that have agreed to take a smaller payout than the holdouts.
Argentina claims that the court ruling to pay the holdouts prevents them from paying those other creditors by a June 30 deadline, effectively causing a default.
At a news conference on Tuesday, Argentine Economy Minister Axel Kicillof said: "We cannot allow (holdouts) to prevent us from honoring our commitments to creditors. For this reason we are starting the steps to start a debt swap to pay them in Argentina under Argentine law."
On Wednesday Kicillof eased back on his comments of a day earlier, revealing that he plans to begin talks next week with creditors fronted by investor Paul Singer, who runs NML.
At a hearing in New York in the lower court whose opinion the Supreme Court upheld this week, Robert Cohen, a lawyer representing Singer's company said, "If they want to talk about settlement, they know how to find us," according to a Bloomberg report.
On Wednesday, according to Bloomberg, Kicillof suggested: "Everyone stay calm. This has been studied extensively so that the reconstruction of Argentina isn't jeopardized."
© Copyright IBTimes 2023. All rights reserved.
FOLLOW MORE IBT NEWS ON THE BELOW CHANNELS