Asian Markets Edge Sharply Down As European Stocks Gain Steam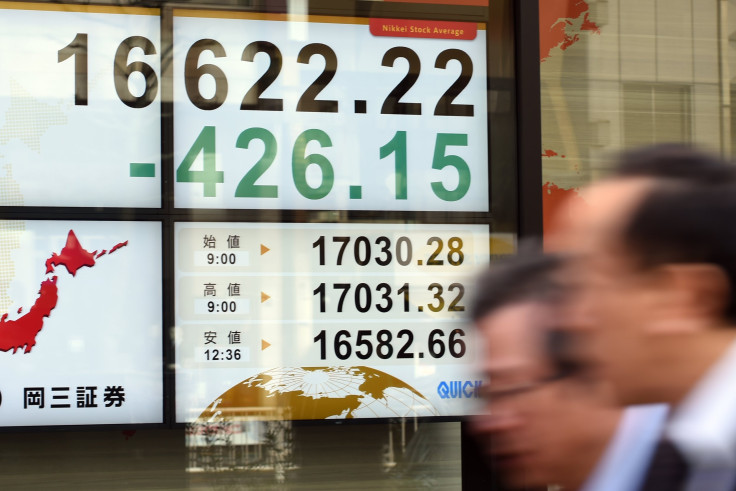 Shares in Asia and Europe edged down after a brief rally during early trade as oil prices settled firmly at a 13-year low Thursday. Investor sentiment turned gloomy in Asia-Pacific markets in late afternoon trading, led by heavy selling in Japan, Hong Kong, mainland China and South Korea.
Japan's benchmark Nikkei 225 saw massive sell-offs, ending the day down 2.4 percent, wiping out hopes for a recovery from Wednesday's 3.7 percent fall that had sent Japan into a bear market.
In Hong Kong, stocks fell below the value of their assets for the first time since 1988, as the Hang Seng Index slumped 1.8 percent at the close. South Korea's Kospi Index dropped 0.27 percent while India's benchmark S&P BSE Sensex closed 0.41 percent lower.
China's Shanghai Composite Index was down 3.23 percent after the central bank of the world's second-largest economy reportedly said it would inject 352.5 billion yuan ($53.58 billion) into the money markets. This is the second attempt by the Asian nation's policymakers to stabilize the yuan this year and improve market sentiment. China's Nasdaq-style ChiNext Index was down 4.18 percent Thursday.
Australia's stock market was the only major index left in positive territory. The ASX 200 closed 0.5 percent higher.
A day after the S&P 500 index in the U.S. closed at its lowest level in more than a year, European stocks made a positive start to the day as investors awaited European Central Bank (ECB) President Mario Draghi's comments for hints of fresh stimulus.
Britain's FTSE 100 rose 0.38 percent after hitting a 2012 low Wednesday. Germany's DAX was up 0.48 percent while France's CAC 40 was up about 0.93 percent. The pan-European STOXX 600 was up 1.4 percent after initially trading in the red.
European lenders were among the worst performers on the STOXX 600 after Germany's biggest lender Deutsche Bank forecast a loss in the fourth quarter due to higher litigation and restructuring costs.
"The ECB could have a reassuring impact today. Markets need to hear that the bias of their monetary policy remains accommodative," Francois Savary, chief investment officer of Prime Partners SA, a Geneva-based investment manager, told Bloomberg.
Meanwhile in the U.S., the S&P 500 futures fell about 0.34 percent while Dow Jones futures slipped 0.40 percent and Nasdaq futures were down 0.39 percent.
Michael McCarthy at CMC Markets in Sydney told the Guardian: "The most important question for markets is whether Wednesday's falls represent the beginning of a much deeper problem. The next 24 hours are crucial to the near and medium-term outlook for markets."
© Copyright IBTimes 2023. All rights reserved.