Asian Markets Slump On Spain And China Concerns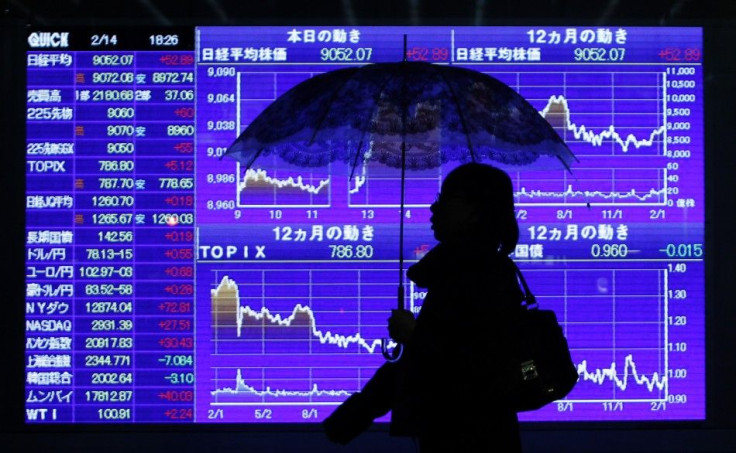 Asian markets fell Wednesday amid Spanish banking sector woes and a report that China is not planning further strong stimulus measures to lift its economic growth.
The Chinese Shanghai composite index fell 0.19 percent or 4.62 points to 2385.01, and Hong Kong's Hang Seng declined 1.98 percent, or 377.63 points, to 18677.83.
India's BSE Sensex dropped 0.51 percent, or 83.60 points, to 16,354.98, and Japan's Nikkei Stock Average fell 0.81 percent, or 69.93 points, to 8587.15. South Korea's Kospi index slumped 0.58 percent, or 10.68 points, to 1,839.23.
Market sentiment was negative as the worrisome condition of Spain's banking sector added to the debt crisis looming over the euro zone. Potentially large fiscal risks have been created from Spanish banks' exposure to the ailing property and construction sectors.
Ratings firm Egan-Jones downgraded Spain's credit rating to B from BB-minus. This follows the situation developing in the Spanish banking sector after Bankia, the country's fourth-largest bank, asked for a 19 billion euro ($23.8 billion) capital injection.
The source of concern for the market is how this capital injection will be dealt with. Officials have hinted at direct public help, which could ultimately be more of a burden for the country's economy, as well as that of the region.
Spain's economic and financial challenges have been exacerbated by large capital outflows that intensified in the early months of 2012. If this sudden reversal of international capital flows is not arrested, it can pose a serious threat to the country's economic and financial stability.
Earlier this month, Moody's Investors Service cut the ratings of 16 Spanish banks, including Banco Santander and BBVA, the two largest banks in the country. The reasons cited for the decision were the weakening of the government's ability to support some banks in the crisis situation and the country's first quarter descent into a recession.
Another factor that dragged down Asian market sentiment was a report by the Xinhua News Agency that the Chinese government did not have any plans to introduce any measures to regain growth. There were fears of a hard landing earlier last month after data showed that China's economy slowed down to 8.1 percent in the first quarter, down from 8.9 percent in the fourth quarter of 2011.
© Copyright IBTimes 2023. All rights reserved.