Atlantis, Illegal Online Drug Marketplace, Forced To Shut Down 'Due To Security Reasons Outside Of Our Control'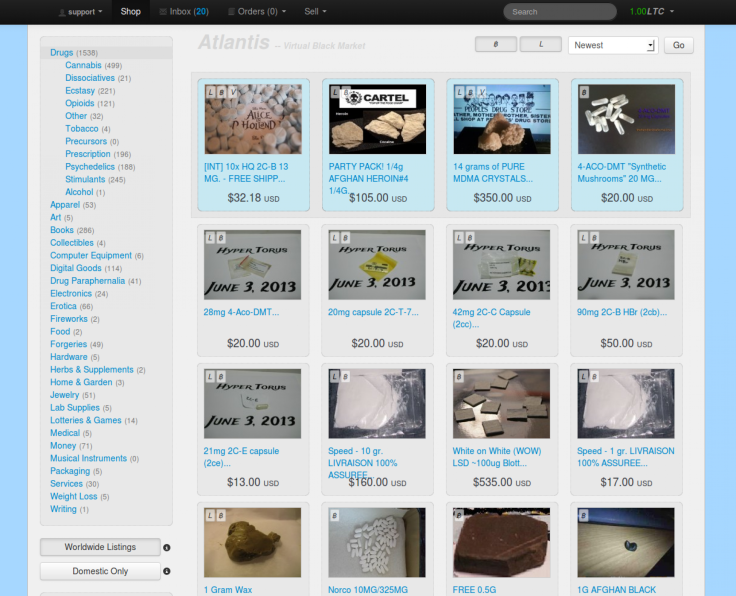 The Atlantis Market, the highly publicized Deep Web black market touted as a competitor to Silk Road, has been forced to shut down "due to security reasons outside of our control," according to a statement on the site's Facebook page, a statement that is reproduced below:
"Dear all users,
"We have some terrible news. Regrettably it has come time for Atlantis to close its doors. Due to security reasons outside of our control we have no choice but to cease operation of the Atlantis Market marketplace. Believe us when we say we wouldn't be doing this if it weren't 100% necessary.
"Due to the urgency we are allowing all users to withdrawal all their coins for one week before the site, and forum, are shut down permanently. Please remove all of your coins, these will not be recoverable after one week from now. Anything remaining in your accounts will be donated to a drug related charity of our choosing.
"We wish to thank all of you for making Atlantis a great and memorable place to trade on. We wish you all the best in your future endeavors.
"Best wishes, The Atlantis team"
As the Verge reported, Atlantis -- launched in March -- served as an underground online black market for users to buy and sell drugs, forgeries, cybercrime and other illicit goods and services using virtual currencies such as bitcoin and litecoin. Like Silk Road, Atlantis operated on the Tor anonymity network.
According to the Verge, Atlantis attracted a huge amount of attention in June after it released an animated advertisement (appearing below) depicting a "stoner" named Charlie who found "dank buds" using Atlantis. Many criticized the site for running the commercial, saying it would only attract negative attention and defeat the purpose of Deep Web sites such as Atlantis and Silk Road.
In a Reddit AMA (Ask Me Anything) session, the anonymous CEO of Atlantis said it wasn't worried. "We want to bring attention to the site and bring our vendors more buyers," the CEO wrote. "Law enforcement is going to be aware of us (and probably already is) regardless of the way we choose to put our product out there."
The marketing ploy appeared to work. Gawker noted the site tallied more than $500,000 in sales in June, causing some to proclaim Atlantis as the new challenger to Silk Road, the reigning king of Deep Web black markets.
However, as Ars Technica pointed out, Atlantis never really stood a chance. Nicolas Christin, a Carnegie Mellon University assistant research professor with interests in computer and information-systems security, told the Daily Dot he estimated that Silk Road rakes in between $30 million and $45 million a year in transactions.
For Atlantis, it appears the party is over.
FOLLOW MORE IBT NEWS ON THE BELOW CHANNELS