'Attack On Titan' Camp And Action Gameplay, 3D Maneuver, Battle Scene Sneak Peeks And New Screenshots Arrive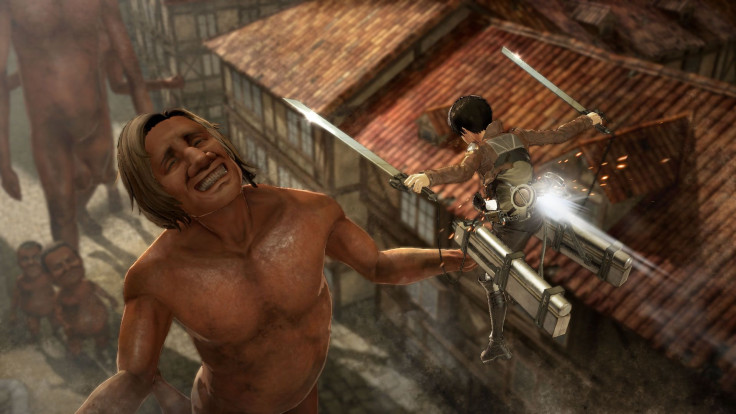 Koei Tecmo's latest work, video game "Attack on Titan," has seen a new batch of screenshots and gameplay clips. These show off some of the features coming to the game.
The gameplay videos tease two aspects of the game, namely the action gameplay and camp experience. According to Gematsu, a total of 10 gameplay clips have been uploaded on the official website. A sample gameplay clip can be seen below, and it features sneak peeks of what goes on in the camp.
From the looks of it, the gameplay feature showed Armin and Eren taking on the player's point of view. The camp gameplay clip shows a few of the characters in the "Attack on Titan" game. Towards the end, it features a training camp where Eren is practicing his 3D maneuver gear moves on a dummy titan. For those familiar with the Japanese anime or manga version of "Shingeki no Kyojin," this is the point where the soldiers are training to defeat the titans before they are sent outside the walls.
The training camp will see players gearing up to fight titans by training them to hack off the bit of flesh at the nape of titans. It is also an effective training ground to make use of the 3D maneuver gear effectively, whether they are used on trees or on the titans themselves.
Apart from the gameplay clips, the developer has also released some new screenshots featuring action scenes of the game. Spotted by DualShockers, the screenshots feature the soldiers fighting off the titans and putting their training knowledge in action. Some of the screenshots also feature tactical attacks, such as limiting titan movement by cutting off legs and arms.
However, players should also note that these actions can both dull the blades of the sword as well as use up the gas that powers the 3D maneuver gear. Just like the characters in the original material, the game also reflects these nuances in the actual battle against titans.
"Attack on Titan" by Koei Tecmo will debut on the PS4, PS3 and PS Vita. It is slated for a winter release date in Japan, and an indefinite release date in 2016 for North America and Europe.
© Copyright IBTimes 2023. All rights reserved.