Australia May Export Uranium To India … But When?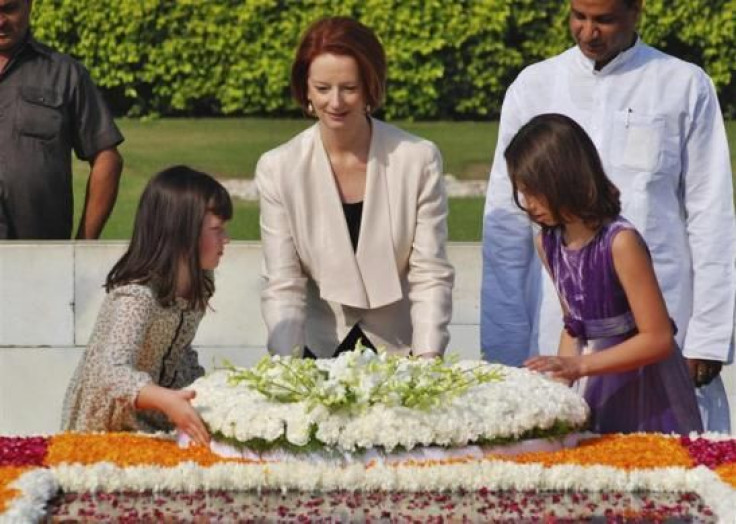 The Prime Minister of Australia, Julia Gillard, is seeking to expand trade and military relationships between her country and India while on a three-day visit to the sub-continent.
Bilateral trade between India and Australia currently amounts to some $20-billion, but it has been increasing at a rate of 20 percent annually.
"We have already set a goal of $40 billion trade in 2015 -- in other words, our trade could double by 2015," Gillard told reporters in Delhi.
"We both have huge energy needs ... India's energy needs are going to increase sharply ... there is a good potential for partnership in the energy sector."
Of particular significance, Gillard and her Indian counterpart, Manmohan Singh, will discuss the possibility of Australia selling uranium for India's nuclear power program. Late last year, the ruling Labor party of Australia rescinded the country's longstanding ban on exporting uranium to India.
However, any such sales to India would not be immediate -- it may take up to two years for such transactions to commence, pending the establishment of nuclear safeguard agreements, according to a report in the Sydney Morning Herald.
"We have changed our party policy so that there is now no fetter for us on selling uranium to India," Gillard told reporters in Delhi.
"The thing that would have to happen next is the negotiation of a comprehensive civil nuclear co-operation agreement."
Indeed, Australia has long refused to sell uranium to India since the latter country is not a signatory to the Nuclear Non-Proliferation Treaty.
BBC reported that Australia, which accounts for about 40 percent of global uranium production, already sells the element to the U.S., Taiwan, Japan and China.
Gillard will also meet with President Pranab Mukherjee and other senior government officials on Wednesday.
"I think India is a wonderful example of everything we have been talking about as the possibilities of the Asian century," she declared, according to The Australian.
However, the ABC media outlet of Australia suggests that, given the recent slowdown in the Chinese economy (China is Australia's biggest trade partner at more than $100 billion annually), Gillard may be looking to India to pick up the slack.
This might be a mistake on her part.
Dr. Kamal Mitra Chinoy, an Indian foreign policy expert in New Delhi, told ABC in a cautionary tone: "China can compare itself with the United States, and India just isn't in that league. So we have to do a lot of development, including development of technology, increasing our [manufacturing], increasing our exports, cutting down on our imports. All this requires a long time. This is not a one or two, three-year program. It'll take a couple of decades I should imagine."
© Copyright IBTimes 2023. All rights reserved.