Australian MP Bob Katter 'Shoots Rivals Dead' In Controversial Campaign Ad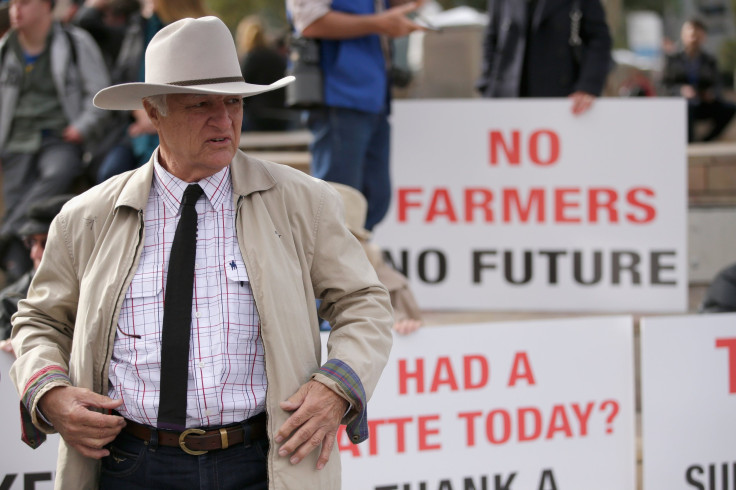 Australian politician Bob Katter found himself in the middle of a controversy after the release of his campaign ad depicting him shooting two of his rivals dead.
The independent Queensland lawmaker released the 30-second ad on his official Twitter account Tuesday, days after the Orlando Pulse gay club shooting, which left 49 people dead. The ad features the 71-year-old head of the Katter's Australian Party holding a smoking gun after shooting two men, who were dressed in a Liberal National Party (LNP) shirt and an Australian Labor Party (ALP) shirt, trying to put up an "Australia for Sale" sign.
Prime Minister Malcolm Turnbull on Thursday criticized the ad saying, "The advertisements were in the worst of taste and Katter should apologize and withdraw them."
But Katter told Australian Broadcasting Corporation that he found the ad extremely funny. "I think most people will enjoy the humor. I thought it was very funny, I must admit told," he said, "It was just for humor value. But it was humor getting a message across. What's not funny is the selling off of this country. We hate it and we're tenaciously opposed to it."
LNP Senator Barry O'Sullivan has reportedly called for Katter's immediate withdrawal from the federal election contest.
"Bob Katter tries to portray himself as some gun-toting tough guy but shooting unarmed people is the very definition of a coward," he said, "In the shadow of the events in Orlando, this is the most atrocious and bizarre political ad that I have ever seen."
Katter also admitted Thursday to not being aware of the Orlando massacre because he doesn't watch the news nor read newspapers. According to reports, Katter, in an interview with Sunrise host David Koch, said that he doesn't know what is going on in the media.
Betoota Advocate, the satirical website that helped Katter's campaign create the ad, also defended the video, adding that it was aware it might "wind people up" but was not sure Katter had the same understanding.
The website's editor Clancy Overell, who played one of the two men who were shot in the ad, told BBC that shootings occurred in the U.S. every day and that "Australians can't be prevented from making jokes and about cowboys and western-style gunplay."
© Copyright IBTimes 2023. All rights reserved.