Australian PM Tony Abbott To Step Down After Losing Leadership Ballot; Malcolm Turnbull To Become Next PM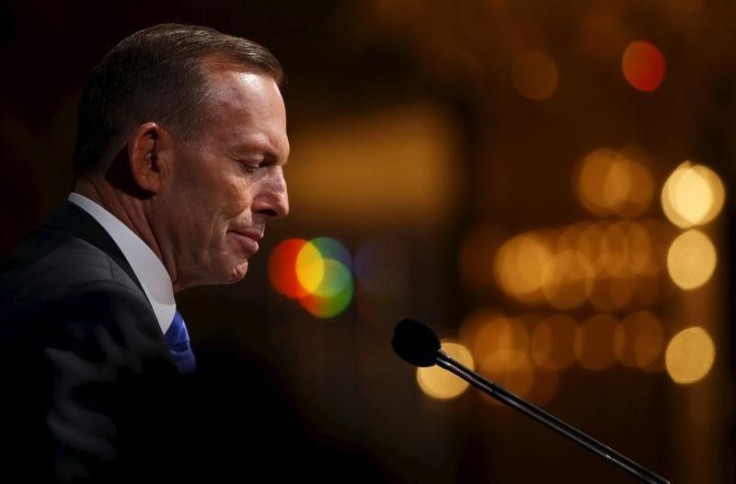 Update as of 7:51 a.m. EDT: Australian lawmaker Malcolm Turnbull won a party ballot Monday to become the leader of the Liberal Party, unseating Prime Minister Tony Abbott. Lawmaker and former foreign affairs minister Julie Bishop won the post of deputy Liberal Party leader.
Abbott will step down Tuesday when Turnbull will be sworn in as Australia's new prime minister. Abbott lost his second leadership challenge from within his party this year, after widespread dissatisfaction with his overall performance record among fellow Liberal Party members.
Update as of 4:24 a.m. EDT: Australian Prime Minister Tony Abbott declared a leadership ballot to be held Monday after top lawmakers in his Liberal Party brought a leadership challenge against him.
"There will be a party room ballot for both the leadership and deputy leadership positions later this evening," Abbott said in a press conference, after lawmakers Malcolm Turnbull and Julie Bishop declared their challenge earlier in the day, the ABC reported.
"I will be a candidate and I expect to win."
Original story:
Australian Prime Minister Tony Abbott faced a challenge on Monday as lawmakers called on him to field a leadership ballot, his second this year. Former Liberal opposition leader and Communications Minister Malcolm Turnbull, and Foreign Minister Julie Bishop, asked Abbott to open a ballot for the Liberal Party's leadership.
Turnbull also said he had stepped down from the cabinet.
"It is clear enough that the government is not successful in providing the economic leadership that we need ... he is not capable of providing the economic confidence that business needs," Turnbull said at a press conference in Canberra, according to the Guardian.
"We need an open government, an open government that recognizes that there is an enormous sum of wisdom both within our colleagues in this building and, of course, further afield. But above all we have to remember that we have a great example of good Cabinet government," he added.
Lawmakers had previously told local media that they expected to see a challenge to Abbott's leadership before the end of the year. Turnbull told reporters at Parliament House: "A little while ago I met with the prime minister and advised him that I would be challenging him for the leadership of the Liberal party."
On Sunday, it emerged that Liberal Whip Andrew Nikolic had texted Turnbull asking him to publicly dismiss any intentions to challenge Abbott, which Turnbull declined saying that it would only stoke speculation and that not commenting on the matter was his best option.
Local media also reported that Abbott had told media mogul Rupert Murdoch that he was considering an early double dissolution election in the near future. The move would come after a byelection in the division of Canning that officials said would be the "test" of Abbott's leadership, according to the Guardian.
Polls predicted a 10 percent swing against the Liberals in Canning, a result that would not end the Liberals' hold on the seat, but showed a rise in acrimony against the party's leadership.
Asked on Sunday whether he would step down if the ruling coalition lost Canning, Abbott replied: "Well we're not going to lose the Canning byelection."
"We've got an outstanding candidate, we have run a strong campaign and I think that the people of Canning are going to ask themselves who is going to look after them," he added.
The challenge is the second Abbott has faced, after a leadership spill motion in February that he won by 61 votes to 39, in a crisis that was driven by concern over the government's performance.
"We need advocacy not slogans," Turnbull said at the press conference, striking at Abbott's public habit of repeating phrases such as "stop the boats," according to BBC.
© Copyright IBTimes 2023. All rights reserved.