Australian Prime Minister Tony Abbott Survives Party's Ousting Challenge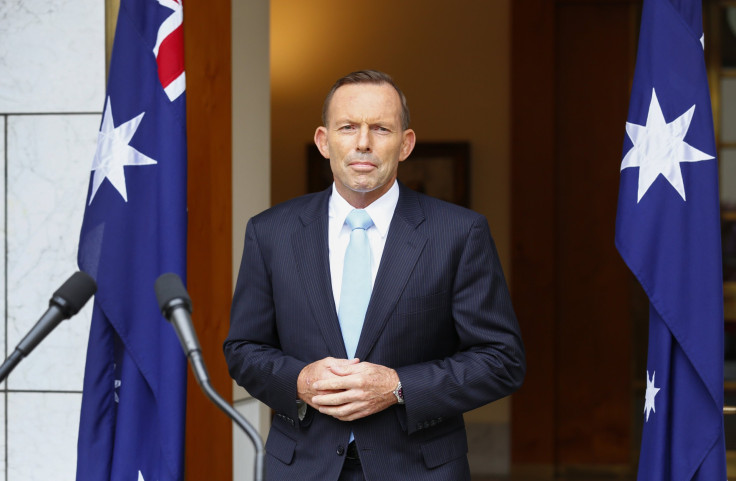 Australian Prime Minister Tony Abbott can heave a sigh of relief and continue serving as the country's leader after he survived a challenge to his leadership Monday from his ruling Liberal Party. Following weeks of infighting and mounting no-confidence sentiments, Abbott's party eventually voted not to unseat him, despite Abbott's increasing unpopularity.
"The Liberal Party has dealt with the spill motion, and now this matter is behind us," Abbott, who has been leader of his party since 2009, said in a televised statement, according to Reuters. "We think that when you elect a government, when you elect a prime minister, you deserve to keep that government and that prime minister until you have a chance to change your mind."
The 101-member party voted in a secret ballot on the decision to declare the positions of party leader and deputy leader vacant, which was shot down by 61 votes to 39, a party official told reporters. "It does suggest to me continuing instability, because 40 percent of your party has just expressed no confidence in you," Rod Tiffen, an emeritus professor of political science at the University of Sydney, told Reuters. "I think that it means leadership speculation will be on the agenda in Australian politics until it's resolved by Abbott's exit, really."
While opposition parties were gleeful at the Liberal Party's infighting, they were relieved that Abbott remained a battered party leader, as opposed to a popular successor taking the top spot. Communications Minister Malcolm Turnbull, also from the Liberal Party, had been seen as most likely to take Abbott's seat. "Turnbull would have got a nice honeymoon if he had become leader today," one senior lawmaker from the opposition Labor Party told the Sydney Morning Herald on Monday. "He's a bigger danger for us. People like him." Opposition parties have already devised strategies to deal with Turnbull's rising popularity and turned away from criticizing Abbott last week, according to the Herald.
Abbott's leadership has been in crisis due to unpopular decisions he has made over the past few months, including his decision to knight Britain's Prince Philip during Australia's national day, which local media have taken to calling a "knightmare." Abbott had tried to salvage his rating by deciding to abandon his highly criticized paid parental leave policy that he had been pushing for, but many felt that his move was too little too late. His ruling party eventually decided to call for a vote to oust Abbott as a party leader. Abbott had announced on Friday that he would fight to remain the head of the party.
© Copyright IBTimes 2023. All rights reserved.