Automotive Industry Could Virtually Come To A Halt Over The Coronavirus Outbreak
The automotive industry is feeling the effects of the coronavirus. It has seen sales slow. A slew of tradeshows have been canceled or postponed. Vehicle launches have been delayed and demand in China has disappeared.
Joe Spak, an analyst at RBC Capital Markets, doesn't see improvement coming anytime soon and has cut price targets for the 22 companies he watches over and downgraded another four companies, according to Bloomberg. On Monday, Spak made the cuts, which he said may seem "drastic," but are "reasonably plausible," the news outlet reported.
Spak said in his report that vehicle demand will reportedly virtually stop due to COVID-19 as he expects Tesla's (TSLA) 2020 deliveries to dwindle, dropping to 364,000 units from 368,000 last year despite the company's guidance of more than 500,000.
Spak reportedly cut Tesla's price targets to $380, down from $530, and set the company's 2020 net loss on a GAAP basis of $104 million. Tesla was previously expected to post a $1.53 billion profit.
Ford (F) is also having a tough year, which is only further complicated by the coronavirus situation. According to the news outlet, Spak sees a price cut target to $6.50 from $9 and estimates that 2020 total EBIT of $157 million, down from the $6.12 billion previously forecast. Ford has also reportedly delayed the launch of the Bronco because of the coronavirus outbreak.
General Motors (GM) wasn't exempt from the price cuts as its target was reportedly cut to $33 from $49 with a forecast 2020 adjusted EBIT of $2.8 billion, down from the previously predicted $8.39 billion. Spaks also predicts a $3.5 billion cash burn for GM through the year.
"The situation is very fluid but it's not hard to imagine that vehicle demand comes to a complete halt amid social distancing" and "a stressed consumer," Spak wrote (via Bloomberg). "And let's be honest, buying a new vehicle may be a low priority for many once things settle down."
Shares of Ford stock were down 11.10% as of 3:42 p.m. EDT on Monday while shares of General Motors stock were dwon 14.29% at the same time. Shares of Tesla stock were down 17.52% at the same time.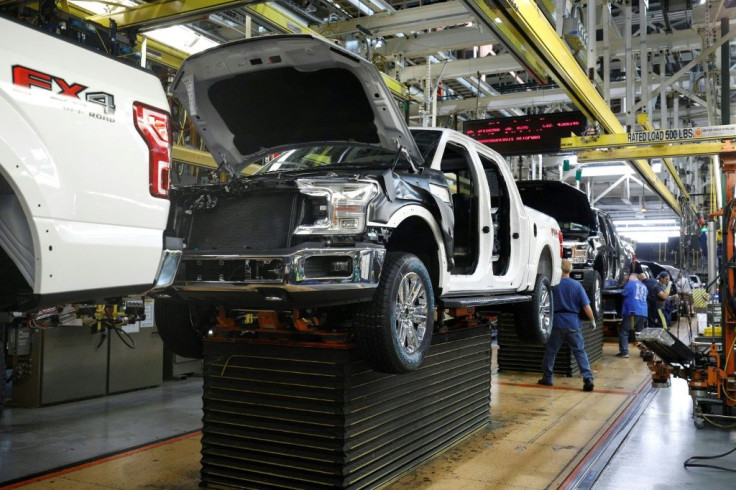 © Copyright IBTimes 2023. All rights reserved.
FOLLOW MORE IBT NEWS ON THE BELOW CHANNELS