'Back 4 Blood': New Characters, Game Mode Coming In New DLC
KEY POINTS
The "Tunnels of Terror" DLC is due to release on April 12
This new game mode is officially described as "dungeons full of labyrinthine tunnels" that host Warped Ridden
Warped Ridden seems to be a new variant of existing Special Ridden
The first major DLC for Turtle Rock's "Back 4 Blood" is just around the corner, and it's going to bring with it some exciting new content that could shake up how the game is normally played.
The "Tunnels of Terror" DLC is due to release on April 12 with the new Ridden Hives activity at center stage. This new game mode is officially described as "dungeons full of labyrinthine tunnels" that host a new type of enemy: Warped Ridden.
So far, these Warped Ridden seem to be new variants of existing Special Ridden. The Urchins are Stingers that can set land mines, Rippers are Tallboys that can deal more damage and Shredders are Reekers that are apparently even more monstrous than their normal counterparts.
Purging Ridden Hives will reward players with unique loot and other rewards, though Turtle Rock is yet to dive into the specifics of these exclusive items. There will be seven different Hives upon the release of the DLC.
Alongside this new mode are two additional Cleaners, Heng and Sharice.
Heng is a support-oriented character who can sense and ping nearby attachments, stash doors and Hive entrances. Meanwhile, Sharice focuses more on improving a team's survivability with increased trauma resistance, extra max HP and the ability to cause armored Ridden to drop usable Armor Plates. The characters spawn with a hatchet and a fire axe, respectively.
Additionally, "Tunnels of Terror" will come with a host of items. There will be eight character skins, 12 weapon skins, seven new legendary weapons and more included in the update. The game is also getting the No Hope difficulty mode, which will serve as the most challenging setting that's designed for the most elite of players.
Lastly, Turtle Rock emphasized that there will be no microtransactions involved in the "Tunnels of Terror" DLC as well as any other DLC in the future. Although, players will still have to purchase the pack itself to gain access to its features. Anyone can play the new Ridden Hives content so long as at least one person in the team owns "Tunnels of Terror."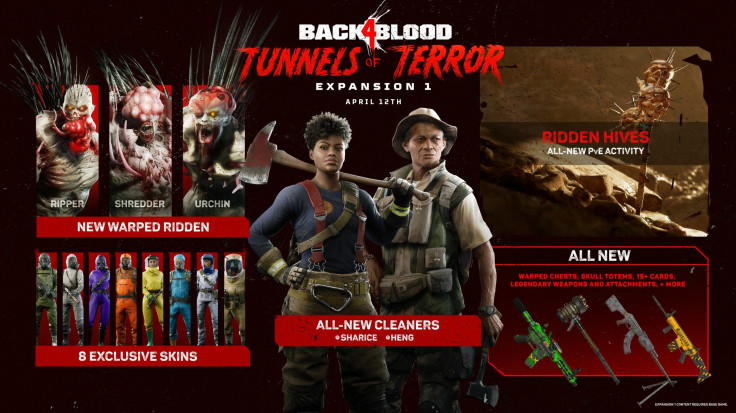 © Copyright IBTimes 2023. All rights reserved.
FOLLOW MORE IBT NEWS ON THE BELOW CHANNELS