Barack Obama To Vladimir Putin: Hands Off Ukraine; Pair Meet At APEC Summit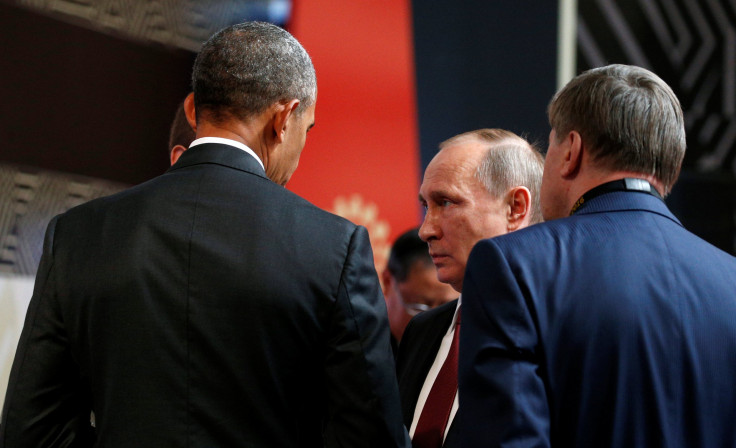 U.S. President Barack Obama urged Russian President Vladimir Putin to honor Moscow's commitments on Ukraine's sovereignty as the pair met briefly on the margins of the Asian-Pacific Economic Cooperation summit in Lima, Peru, Sunday.
A White House statement said Obama told Putin U.S. Secretary of State John Kerry and Russian Foreign Minister Sergei Lavrov should continue meeting on various issues to stem international violence and ease the suffering of the Syrian people.
The White House said the meeting between Obama and Putin was informal. Relations between the two have been strained, exacerbated by the situation in Syria and Russia's seizure of the Crimea from Ukraine in 2014.
Obama urged Putin to adhere to the Minsk agreements to stop the fighting in the Donetsk and Luhansk regions of Ukraine where Russia has been accused of backing dissident groups, supplying arms and military advice. German Chancellor Angela Merkel said Friday the leaders of Britain, Germany, Italy, Spain, the United States and France had agreed not enough progress has been made in Ukraine to warrant lifting sanctions against Russia for its interference, the Russian news agency Tass reported.
In Syria, Russia has sided with the regime of President Bashar Assad and has been conducting bombing runs that have not only targeted Islamic State group terrorists, but hit Syrian rebel groups allied with the West trying to oust Assad from power. The bombings have produced thousands of civilian casualties.
Pro-government forces Sunday refused to acquiesce to a U.N. proposal to grant autonomy to certain rebel-held areas of Aleppo and instead pressed a nearly weeklong assault on the area, the Associated Press reported. The U.N. estimates 275,000 people are trapped in the area.
The summit also provided a venue for members of the Taiwanese delegation to meet with Chinese President Xi Jinping Saturday, discussing policy issues and the hope cross-strait economic exchanges could resume, the Taipei Times reported.
The Philippines' Rodrigo Duterte, who has been highly critical of the United States and Obama, cozied up to Putin Saturday, blaming the West for "bigotry," terrorizing smaller nations and warmongering, and praised Putin for his "leadership skills," RT reported.
Duterte welcomed the election of Donald Trump as the next U.S. president, saying there are a lot of similarities between Trump and himself.
"We both like to swear. One little thing, we curse right away. We're the same," Duterte said.
© Copyright IBTimes 2023. All rights reserved.