Basque Protesters Call For Independence Vote In Spain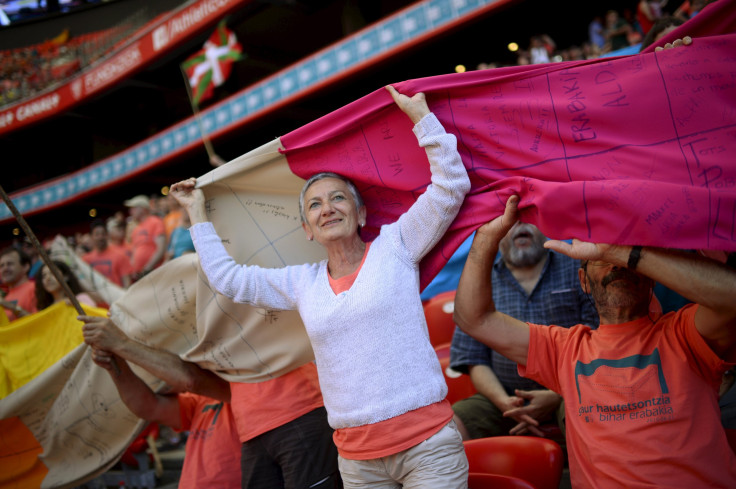 Thousands of people gathered in northern Spain on Sunday to demand a referendum vote for the independence of the country's Basque region. Demonstrators holding long lengths of cloth formed human chains across several Basque cities, including the capital of Vitoria, Bilbao and San Sebastian. Many of the protesters wore the colors of the Basque flag -- red, white and green.
The demonstration was organized by the pro-independence Gure Esku Dago ("It's in Our Hands") group, and was backed by several separatist parties and local figures. Spain's Basque community has long asserted that it should be independent of the country, and in recent years, pro-Basque parties have made significant gains in local elections. The Basque region, which has its own distinct language and culture, has also been inspired by pro-independence gatherings in the Catalonia region.
"More and more people believe that the right to decide concerns all of us and that we have the right to decide our future," Pello Urizar, head of the separatist coalition Bildu, told reporters at the gathering, according to Agence France-Presse.
While recent Basque separatist groups have been largely peaceful, the movement has a history of violence. The armed separatist Euskadi Ta Askatasuna ("Basque Country and Freedom" or ETA) group is accused of killing over 800 people across a four-decade campaign before its members agreed to stop using violent tactics in 2011. However, the group still refuses to disarm or surrender, as demanded by both the Spanish and French governments. A May joint raid by Spanish and French authorities in a French town found a cache of weapons allegedly linked to the ETA.
A referendum vote on the issue was scheduled to be held in 2008, but was blocked by Spain's Supreme Court at the behest of its government, a decision that triggered widespread criticism and protests.
© Copyright IBTimes 2023. All rights reserved.
FOLLOW MORE IBT NEWS ON THE BELOW CHANNELS