'Battlefield 4' Player Appreciation Month: EA DICE Dedicates February To Fans
EA DICE is promising players a plethora of special features of February.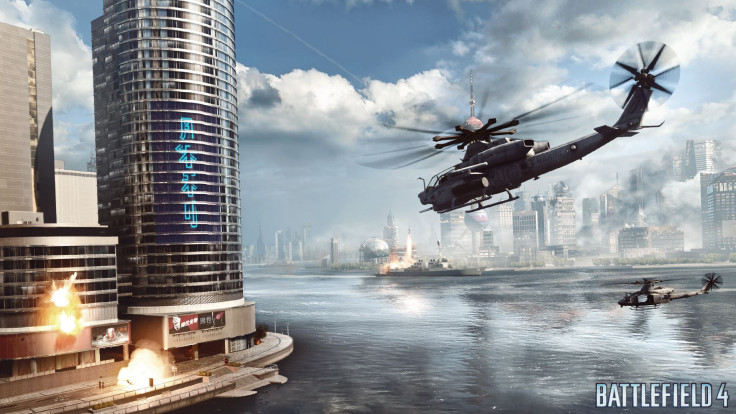 Beginning Saturday, Feb. 1, EA DICE will hold a Player Appreciation Month for "Battlefield 4" gamers. DICE General Manager Karl Magnus Troedsson stated that the developer is offering "a month filled with fun community missions and daily giveaways that you get just for jumping into a match" during the entire month of February.
Troedsson also admitted "we are further improving a number of items commonly referred to as 'netcode.' This will tighten the overall multiplayer experience, and we will be able to share these items with you in detail soon." EA will also be offering special bonuses and hosting multiple events.
"In this added social layer, you can team up with your friends to create your own social space and accumulate stats together. We're also working on other feature additions that you've been asking for -- stay tuned for more," Troedsson added, assuring players platoons would be returning in February. More details were given via "Battlefield's" blog.
A Battlepack a Day

Every day that you log into the game in February, you'll receive a Bronze or Silver Battlepack. For those of you who haven't started opening your earned packs yet, these Battlepacks contain bonuses like XP Boosts and soldier camos. Normally, it would take approximately 30 hours gameplay to earn that many packs. Every day that you log a multiplayer game during the month of February, you will receive a new Battlepack. During weekdays, these will be Bronze, and during Saturdays and Sundays we will give away Silver Battlepacks. Remember to activate your earned XP boosts in the in-game menu to accelerate your progress.
Shortcut Bundles

We are preparing two shortcut bundles for Battlefield 4 that we will make available for download at no cost during the Player Appreciation Month. These voluntary shortcut bundles will unlock all grenades and handguns for Battlefield 4 (the base game) so you can make up for lost time. Or if you're new to the game, they will help you catch up with players who have been on the Battlefield since launch. We will get back to you with more details once we have set release dates for these items.
For all of our Battlefield 4 Premium users, we're adding two additional weapon shortcuts, unlocking DMR's and shotguns. That way, if you like, you can quickly get your hands on a large portion of the weapons available in Battlefield 4.
Double XP Weekend

During the Player Appreciation Month, we'll be running a double XP weekend for all players. If you're one of our many Battlefield 4 Premium members, you'll also get an additional double XP weekend during the Player Appreciation Month as an added bonus.
Community Missions

You will be able to participate in global DICE Community Missions where you will work together to unlock Gold Battlepacks. During the first of these Community-wide challenges, we will ask you to grab a set number of dog tags during a specified time. More details on this first Community Mission in Battlefield 4 to follow.
DICE Developer Talks

Increased developer interaction and transparency on how we work is frequently requested from our fans. During Player Appreciation Month, we will host a number of interviews with some of the core developers of Battlefield 4. In these interviews, you can ask them about their line of work, the effort they've put into Battlefield 4, or in the case of our core gameplay designer, what the balancing process of Battlefield 4 looks like. We will announce the dates and channels for these developer interviews as the Player Appreciation Month kicks off.
Perhaps a smart PR move for a game that has experienced a considerable amount of glitches and errors on multiple platforms since its launch in late October 2013.
"We know we still have a ways to go with fixing the game -- it is absolutely our number one priority. The team at DICE is working non-stop to update the game," an EA representative told gaming website IGN in December. "We know many of our players are frustrated, and we feel your pain. We will not stop until this is right."
A class action lawsuit was filed against Electronic Arts Inc. (NASDAQ:EA) in December accusing the company of failing to disclose the number of problems with the game. The complaint further alleges that the glitches caused several delays in various projects, resulting in EA being unable "to achieve the financial results it had told the market it was on track to achieve."
The lawsuit was filed by securities law firm Robbins Geller Rudman & Dowd LLP in the U.S. District Court of Northern California. The complaint argues that the Redwood City, Calif., company gave "false and misleading statements to stockholders."
In its response, EA called the suit "meritless" and said it would "aggressively defend" itself against the complaint.
Will this campaign bring you back to "Battlefield 4?" Leave a comment below.
© Copyright IBTimes 2023. All rights reserved.