Black Friday 2014: Tips, Tricks For Surviving The Shopping Holiday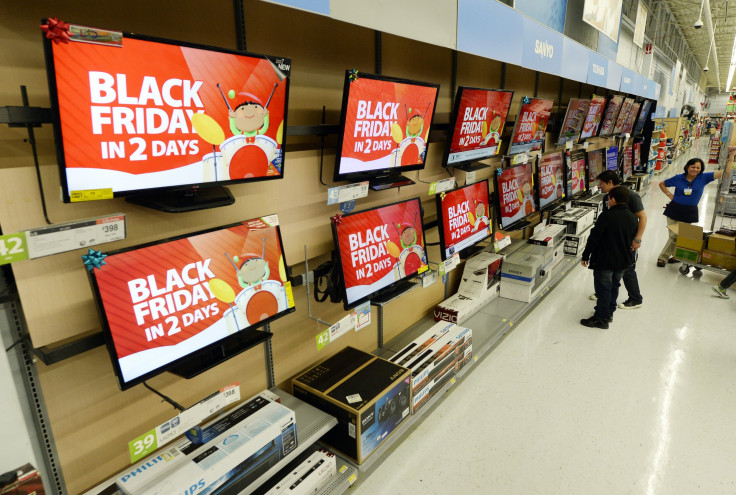 Black Friday, once a day when shoppers got up a few hours early to sit in moderate traffic in order to get some pretty good deals at the local mall, has turned into a contact sport in many communities across the U.S. The retail bonanza now often begins before or on Thanksgiving, and sparks stampedes and all-out brawls year after year as people clamor to get the best sale prices on electronics, toys, clothing and other gifts.
Like any physically and psychologically demanding activity, consumers who decide to take part in the Black Friday hysteria would be well advised to take some time to do some research and planning before they head to their local Walmart, Best Buy, Target or other big-box retailer for the eagerly anticipated doorbuster sales. So here's a list of tips and tricks to help you survive the biggest shopping day of the year, and to help you score all the best gifts at the cheapest prices, while expending the minimal amount of effort and staying safe in the process:
1. Plan ahead. One of the best things shoppers can do in advance of a Black Friday shopping spree is to do some research and plan their method of attack. Simply showing up at Coscto at a random time on the day after Thanksgiving and expecting to get everything you want is bound to end in disappointment. It's important to make a schedule ahead of time, to know which stores you will be going to, and to have all contingencies accounted for ahead of time. This guide will help you ensure you've ticked off every box, and that you have no trouble getting something for everyone on your holiday shopping list.
2. Time it right. Some Black Friday shoppers already have a jump on you, including these two women who started camping out in front of a California Best Buy 22 days before the big day. But the truth is that you don't really need to go to all that trouble. Many of the best deals are available before and after Black Friday as well, and more and more are being offered online each year. If you do decide to go Black Friday shopping, you can maximize your time by planning your driving route and making sure that you hit stores with the hottest doorbusters earlier than ones that may just have a few discounts.
3. Clip coupons. This may sound a little old-fashioned, but actually having coupons or circulars that you either collected from newspapers, received in your mailbox or printed out off the Internet could help you when it comes to Black Friday shopping. Though their deals are often the same in the store as in the ads, having a copy of a material with the sale price you've got your eye on will help you avoid the misunderstandings and disappointment that lies in wait for a badly planned Black Friday spree.
4. Shop online. As noted above, some of the best deals are appearing online instead of requiring you to get in a line of deal fiends pushing carts through a fluorescent-lit box of despair. The benefits of shopping online are especially apparent on Cyber Monday, which falls on Dec. 1 and is introverted type B person's answer to the extrovert type A's Black Friday shopathon. Plus, who really wants to leave the house after scarfing down a half-ton of turkey, mashed potatoes and pumpkin pie?
5. Shop local. OK, this one isn't so much a tip about how to survive Black Friday as a friendly reminder that sometimes the best gifts aren't cheap big-screen plasma TVs, but instead something special that you could never find on a Walmart shelf. And shopping local actually could help with that whole not getting trampled thing, as your friendly local antique shop or art gallery likely doesn't garner the frenzied atmosphere that your local Target might.
6. Harness social media. Using the power of social media is a great way to make your Black Friday shopping easier. We don't mean that posting photos of the sweet deal you got on an Xbox on Instagram or tweeting out how excited you are that you got the last Cabbage Patch doohickey will do anything but make your friends "mute" you. The way to harness social media in a way that makes your life easier and keeps your wallet fuller is to "like" store's Facebook pages, follow them on Twitter, and (though it's not really "social" media) sign up for their email listservs. It could save you a bundle by alerting you to hot deals you would otherwise have never known about.
7. Use apps. There are some really great Black Friday apps and websites that help you nail down the best Black Friday plan for you. "The best Black Friday deals can be found on the apps specific to Black Friday," such as TGIBlackFriday.com and RetailMeNot.com, PayPal's shopping expert Claudia Lombana, told Forbes. Because they are focused solely on Black Friday, they have some of the freshest and most pertinent information, deal listings and suggestions for how to conduct your shopping venture.
© Copyright IBTimes 2023. All rights reserved.