Black Friday 2015 Hard Drive Deals: Storage, SSD, Memory Card Discounts From Best Buy, Newegg, Walmart And More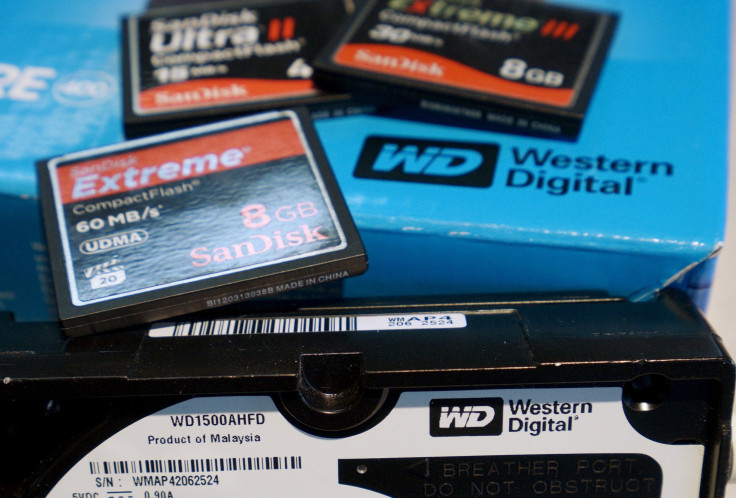 When it comes to storing lots of data, having enough hard drive space is a seemingly never-ending challenge. But with Black Friday 2015 just around the corner, it's right about time to stock up on virtual space for your growing collection of games, music, movies and photos.
Or if you're looking for a speed boost, there's also plenty of deals to be had on fast solid-state hard drives (SSDs), which trade larger storage sizes for faster performance. Whatever the case there's plenty to be had both in-store and online. Here are the best Black Friday deals for hard drives, storage and memory cards.
Best Buy
Those on the move can grab a 2TB portable USB 3.0 external Seagate Backup Plus hard drive for $69.99, a $60 savings. If portability isn't as important and you just need the storage space, Best Buy also has an option with twice the space -- a 4TB Western Digital My Book USB 3.0 external hard drive for $99.99. Shoppers looking for a performance boost can also find deep discounts on SanDisk SSDs, such as a 120GB internal drive for $39.99 and a 480GB internal SSD for $144.99.
For even more portable storage, pick up a SanDisk Cruzer 128GB USB 2.0 flash drive for $19.99, an $80 savings, or a SanDisk Extreme Plus 32GB SD card for $17.99, a $62 savings. Best Buy opens its doors from 5 p.m. to 1 a.m. local time on Thanksgiving Day and re-opens at 6 a.m. local time on Black Friday.
Newegg
If fast computer performance is your priority, Newegg has tons of SSD deals to choose from, such as the 500GB Samsung 850 Evo for $149.99, a $50 savings, and a 256GB Samsung 850 Pro SSD for $129.99, a $20 savings. Or have the best of both worlds with the SanDisk 2.5-inch 960GB Ultra II SSD for $199.99, a $120 savings. Newegg's Black Friday sale starts on Thanksgiving Day and runs through the holiday weekend.
Walmart
Admittedly Walmart isn't the ideal place to shop for a new hard drive due to the paltry selection. But if that's your chosen destination for the Black Friday madness, you can grab a Toshiba 1TB portable hard drive for $49, a $15 savings, and a 32GB USB flash drive for $7. Most of Walmart's Black Friday in-store deals begin at 6 p.m. local time on Thanksgiving Day.
Staples
The cheapest place to score an external hard drive is Staples with a 1TB Seagate Backup PlusUSB 3.0 drive available on Black Friday for $39.99, a $30 savings.Or if you're looking to stock up on USB thumb drives, it's also offering a 64GB PNY drive for $9.99 and a 128GB USB 3.0 drive for $19.99. Staples' online store will be open on Thanksgiving. But its physical retail locations won't be open until 6 a.m. local time on Black Friday.
© Copyright IBTimes 2023. All rights reserved.
FOLLOW MORE IBT NEWS ON THE BELOW CHANNELS