Black Friday Cyber Monday 2014: What To Buy And When To Find The Best Deals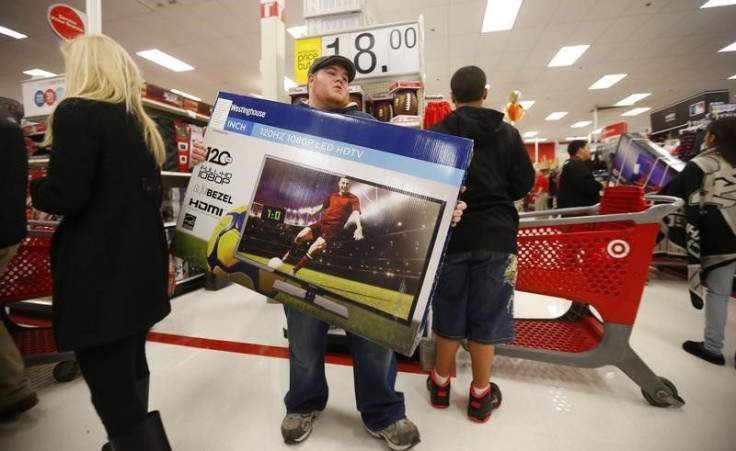 Not every discount is steepest on Black Friday or Cyber Monday, shopping experts say. Though the Thanksgiving kick-off to holiday shopping promises the lowest prices of the year for particular items like clothes, other items like toys are likely to drop in price later.
In recent years, retailers have concentrated in-store sales on Black Friday and online sales on Cyber Monday, but this year more than ever those distinctions are blurring. Offers will be more spread out throughout the week, and some items are more prone than others to drop in price after this weekend.
According to ShopAdvisor, an app that tracked prices for more than 6,000 items November to December, Dec. 18 was last year's best holiday deal day in-store and online, and Dec. 1 was the best holiday deal day in 2012. The average discount on Dec. 18, 2013, was 17.5 percent, versus less than 5 percent on Black Friday. ShopAdvisor CEO Scott Cooper said the data shows Black Friday is more about a handful of limited quantity doorbusters than widespread best pricing.
IBTimes talked to shopping experts to compile a guide to what consumers should buy and when, and what to skip altogether until after the holidays.
Toys: Early December
The best time to buy toys has historically not been Black Friday. According to DealNews, toy prices drop the most in the first two weeks of December, even for the most popular toys. Prices for the more common toys like dollhouses and general LEGO sets will fall even further in these two weeks.
Televisions: February
According to Adobe, the most-mentioned gift items on social media are Sony and Samsung 4K TVs. But while electronics are heavily discounted and advertised on Black Friday and Cyber Monday, the best time to buy a brand-name TV is Super Bowl Sunday, according to Steve Schaffer, CEO of Offers.com.
High-End Laptops: July or September
Black Friday and Cyber Monday will promise good deals on laptops, but not the most powerful machines like Intel's Core i7 models. According to DealNews, high-performance laptops are about 9 percent (or $50) cheaper in July and September than even November's deals.
Video Game Consoles, Games and Movies: Thanksgiving Weekend
Some of the best deals for video games and movies are from Thanksgiving to Cyber Monday. Starting Thursday, the PlayStation 4, Nintendo 2DS, Nintendo 3DS XL, Nintendo Wii U, Xbox ONE and Xbox 360 will be on sale on Amazon.com bundled with popular games. The prices for these bundles are cheaper than buying the console itself at regular price. HumbleBundle.com also offers bundles of games, though they're less popular games, at prices set by the purchasers and donates a portion of proceeds to charities. Best Buy, Walmart and GameStop also offer deep discounts. For more tips on getting the best deals on electronics, read IBTimes coverage here.
Clothes: Thanksgiving Weekend and January
Apparel discounts are steepest on Black Friday and Cyber Monday or warmer, winter gear, in mid-January. Leftover clothes from the holidays are also typically discounted more on Black Friday or Cyber Monday than on the days following Christmas.
Home improvement tools and supplies: June
Lawnmowers, chain saws, leaf blowers, hammers, car supplies and pretty much any tool a shopper would want for the handy person in his or her life is cheapest in June, near Father's Day. There's one exception: gas grills are cheapest at the end of the summer.
Holiday decorations: After Christmas
Christmas decorations drop 50 percent to 80 percent in price the day after Christmas, according to DealNews. Plan ahead for next year and shop for décor Dec. 26.
Fitness Equipment: January
Gym memberships and exercise equipment are cheapest in January after New Year's resolutions.
Jewelry: February
Black Friday and Cyber Monday sales typically discount jewelry 30 to 40 percent, but the best deals on jewelry are near Valentine's Day, according to Schaffer.
Cookware and Other Home Goods: November
The entire month of November is the best time to buy kitchen electrics, pots and pans and small appliances like blenders and toaster ovens, according to Bankrate.com.
Appliances: September, October and January
Manufacturers introduce new models of dishwashers and laundry units during these months, making retailers eager to move old inventory out. The exception is new refrigerators, which come out in the spring. But retailers could discount below these months on Black Friday weekend, Labor Day and Memorial Day, so shoppers wanting appliances should keep an eye out for sales.
In addition to following the historical price patterns, setting up email alerts for particular items and daily browsing deal sites like Offers.com and Slickdeals.net can help consumers snag bargains.
"Start with what you're looking for and then when you find a reputable place that's showing a deal, that becomes the best time to buy," Schaffer said.
© Copyright IBTimes 2023. All rights reserved.