Black Friday, Cyber Monday: US Consumers Fear Credit Card Scams And Hacks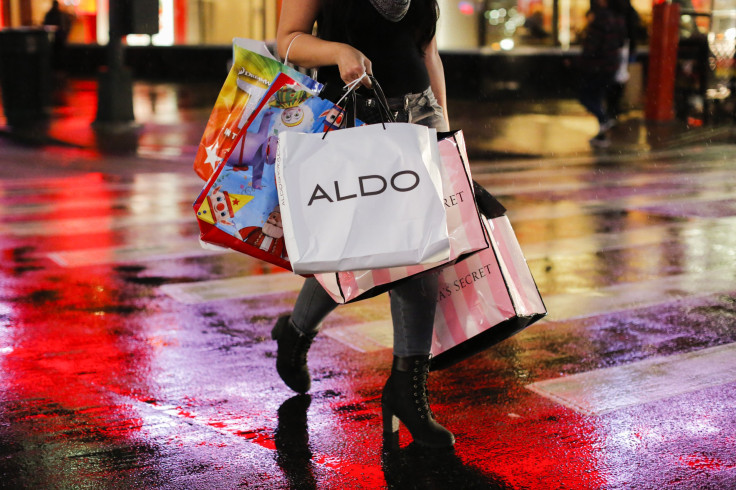 U.S. consumers will have plenty of holiday deals to choose from, but they'll shop with fears circling in the back of their mind. American shoppers' biggest concern regarding holiday shopping is having their saved credit card information compromised while purchasing items online, according to a recent survey by web application security scanning company Netsparker.
The report comes as consumers brace for Black Friday and Cyber Monday deals this month. The National Retail Federation estimates most consumers will turn to online shopping for this holiday season. People are planning to shop on the internet to take advantage of free shipping and other conveniences, like in-store pick ups and faster deliveries, according to the NRF. U.S. consumers are expected to spend an average of $967 this holiday season, a 3.4 percent increase from 2016's $935 average.
The recent Netsparker survey found 85 percent of Americans will do at least some shopping online for the holidays, while 45 percent of consumers said they'll do more than half of their purchases on the internet. However, nearly half of Americans (44 percent) are afraid their saved credit card information with companies will be hacked. Only 33 percent of U.S. consumers say they allow websites to save their information, with the highest number among millennials and the lowest among Baby Boomers.
Besides having saved credit card information compromised, American consumers also have other fears when it comes to holiday shopping. The survey found 39 percent of respondents are afraid of having their delivered packages stolen from their doorstep, while 34 percent said they are concerned of hackers using malware to steal their credit card data and 29 percent said they're afraid of someone skimming their card information at a store.
"Retailers must make protecting their customers' information a priority around the holidays—and year-round," Ferruh Mavituna, founder and CEO of Netsparker, said in a statement. "Consumers need to feel that their information is protected by the companies they do business with; investing in security scanning is an excellent way to show your customers that you care about keeping them safe."
Netsparker broke down the concerns of U.S. consumers. The survey was conducted on more than 2,000 U.S. adults from Oct. 27- Nov. 1.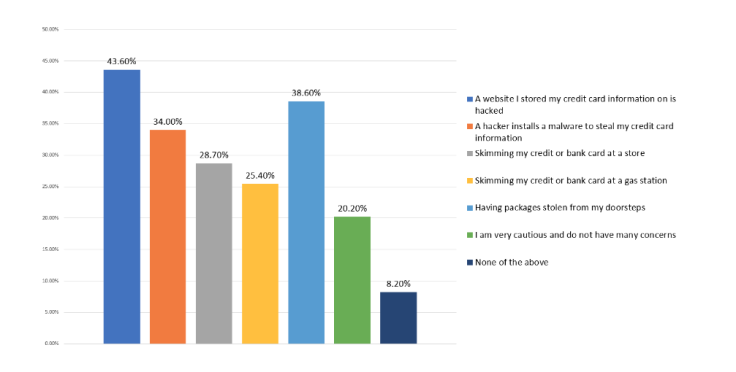 Ways To Protect Your Personal Information While Online Shopping
While U.S. consumers report having concerns related to holiday online shopping, they're not following proper steps to keep their information safe. In the survey, shoppers said they do things that put them at risk to attacks, like using unsecured Wi-Fi networks, clicking on suspicious links on social media, using the same passwords for multiple websites and using weak passwords.
Mavituna provided some tips to International Business Times on how holiday shoppers can protect their personal information while shopping online:
1) Buy from familiar websites that have a good reputation; if you are not sure the online shop you want to purchase from is legitimate, search its name on Google and see what people are saying. Always buy from websites which have good reviews and are popular.

2) Look for the lock in the browser; when buying online and you have to submit your credit card details makes sure that the website is running on HTTPS, which means the communication between your web browser and the website is encrypted. When you browse a website on HTTPS you should see the green padlock in the left-hand side of the URL bar of your browser.

3) Be careful what information to submit: legitimate online shops will only ask for your name, billing / shipping address and credit card details. They never ask for other confidential information such as your e-banking login details, social security numbers, ID card number etc.

4) Use a secure network; never do any online shopping using public Wi-Fi hotspots or any networks that are typically open to the public.
© Copyright IBTimes 2023. All rights reserved.