Blizzard Of 2015: What To Expect From 'Life Threatening' Northeast Winter Storm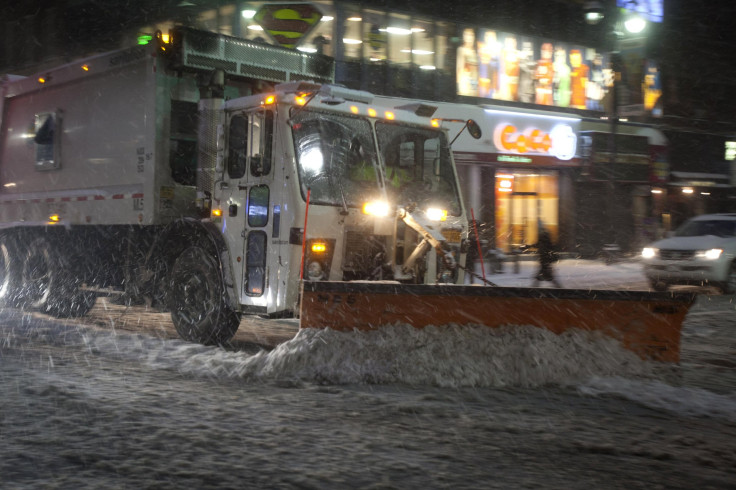 The first major blizzard of 2015 dropped its first snowflakes across the Northeast early Monday as meteorologists predicted as much as 3 feet of snow for some areas in the next 24 hours. As many as 29 million people from northern New Jersey to southern Maine could be affected by what weather experts have called a potentially "life threatening" and "historic" storm. The blizzard is expected to bring strong winds, coastal flooding and snarling travel conditions from Philadelphia to Boston, AccuWeather predicted. The worst of the storm is expected late Monday and into Tuesday.
Despite a relatively mild onset, city officials warned not to underestimate the storm's impact. "This could be the biggest snowstorm in the history of this city," New York Mayor Bill de Blasio said Sunday. "I want everyone to understand what we are facing." The biggest snowstorm on record for New York City was in 2006 and saw 26.9 inches of snow. The previous record-holding blizzard was in 1947 with 25.8 inches, according to the city's Office of Emergency Management.
The National Weather Service issued a blizzard warning for the East Coast from New Jersey to Maine as well as winter weather advisories for parts of Ohio. Much of the Northeast could expect to see 12-24 inches of snow, the weather agency said, with winds topping 50 mph. The "historic winter storm" could make travel "impossible and life threatening," the federal agency said, as visibility on many highways could drop to zero during the height of the storm. Connecticut Gov. Dannel Malloy said statewide bus service would be canceled by 8 p.m. EST and travel bans would be initiated, Reuters reported. The Philadelphia Department of Transportation also asked motorists to stay off the roads.
New York's Department of Transportation sent some 600 plows and 1,300 employees downstate Monday to help mitigate the storm's impact, the agency said on Twitter. New York City Public Schools were open Monday, but after-school activities were suspended because of the storm. De Blasio told New York residents to avoid city parks because of the threat of tree limbs buckling under the weight of new snow.
In Boston, snow was expected to accumulate at rates of 2-4 inches an hour, meteorologists said. Some 700 snow removal vehicles were on standby in the city, WCVB, Boston, reported. "One of the things that will be making this such a problem is the duration of the event," National Weather Service meteorologist Alan Dunham in Taunton, Massachusetts, told WCVB. "Usually they are out in 18 hours, but you are looking at 24 hours plus for this storm."
City residents in New York and Boston stocked up on everything from shovels and ice-melting pellets to groceries ahead of the storm. "Everybody is preparing for the storm," Wyatt Baars, manager of the Charlestown Ace Hardware in Boston, told Fox News Weather Center. "When we have something this big on the horizon, everybody comes in for the ice melt, snow shovels, snow brooms."
New Jersey officials warned of possible moderate flooding from the winter storm and advised coastal community residents to move their cars further inland. The NWS said beach erosion could also be expected.
More than 2,800 U.S. flights were canceled Monday, according to FlightAware. Further flight cancelations were likely as airports were expected to remain closed through Tuesday.
© Copyright IBTimes 2023. All rights reserved.