Bloody Siege of Homs Continues During Assad Referendum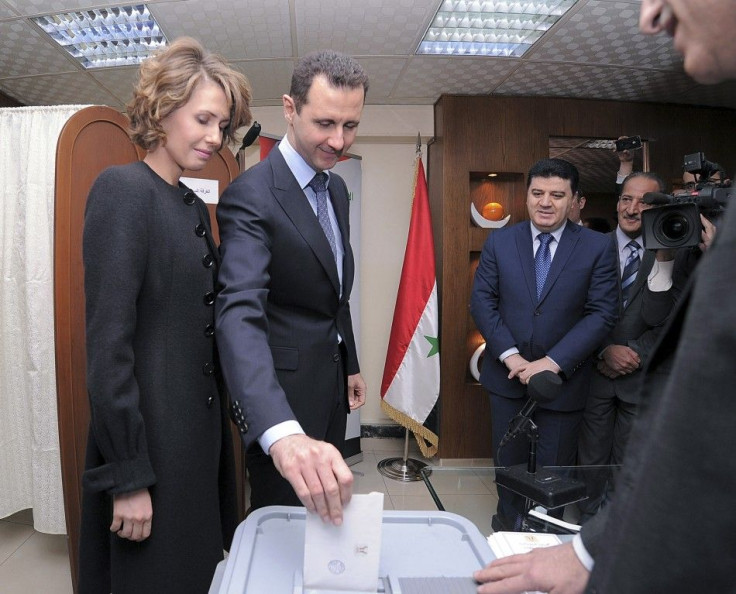 (Reuters) - At least 31 Syrian civilians and soldiers were killed Sunday in fighting over Syria's future that coincided with a vote on a new constitution that could keep President Bashar al-Assad in power until 2028.
The Syrian Observatory for Human Rights said a military bombardment of opposition districts in Homs, now in its fourth week, had killed nine civilians, while rebel fighters had killed four soldiers in clashes in the city.
The British-based Observatory said eight civilians and 10 members of the security forces were killed in violence elsewhere in Syria, scene of what has become an increasingly militarized revolt against four decades of Assad family rule.
Voting was under way in the referendum on a new constitution, which Assad says will lead to a multi-party parliamentary election in three months, but his opponents see as a sick joke given Syria's turmoil.
What should we be voting for, whether to die by bombardment or by bullets? This is the only choice we have, said Waleed Fares, an activist in the Khalidiyah district of Homs.
We have been trapped in our houses for 23 days. We cannot go out, except into some alleys. Markets, schools and government buildings are closed, and there is very little movement on the streets because of snipers, he said.
He said another besieged and battered district, Baba Amro, had had no food or water for three days. Homs in general has no electricity for 18 hours a day. With most foreign reporters barred from Syria or heavily restricted, witness reports are hard to verify.
The Interior Ministry acknowledged obliquely that security conditions had disrupted voting, saying: The referendum on a new constitution is taking place in a normal way in most provinces so far, with a large turnout, except in some areas.
The Syrian government, backed by Russia, China and Iran, and undeterred by Western and Arab pressure to halt the carnage, says it is fighting foreign-backed armed terrorist groups.
NO DESIRE FOR REFORM
Prime Minister Adel Safar, asked about opposition calls for a boycott, said this showed a lack of interest in dialogue.
There are some groups that have a Western and foreign agenda and do not want reforms in Syria and want to divert Syria's steadfastness, he told reporters in Damascus.
We are not concerned with this. We care about ... spreading democracy and freedom in the country, Safar said.
If there was a genuine desire for reform, there would have been movement from all groups, especially the opposition, to start dialogue immediately with the government to achieve the reforms and implement them on the ground.
The outside world has been powerless to restrain Assad's drive to crush the 11-month-old revolt, which has the potential to slide into a sectarian conflict between Syria's Sunni Muslim majority and the president's minority Alawite sect.
Unwilling to intervene militarily and unable to get the U.N. Security Council to act in the teeth of Russian and Chinese opposition, Western powers have imposed their own sanctions on Syria and backed an Arab League call for Assad to step down.
U.S. Secretary of State Hillary Clinton warned on Sunday of the perils of any foreign intervention.
I think there is every possibility of a civil war. Outside intervention would not prevent that, it would probably expedite it, she told BBC television in an interview.
We have a very dangerous set of actors in the region: al Qaeda, Hamas and those who are on our terrorist list claiming to support the opposition. You have many Syrians more worried about what could come next ...
If you bring in automatic weapons, which you can maybe smuggle across the border, what do they do against tanks and heavy artillery? There is such a much more complex set of factors.
German Foreign Minister Guido Westerwelle said the referendum was nothing but a farce.
Sham votes cannot contribute to a solution of the crisis. Assad needs to put an end to the violence and clear the way for a political transition, he said in a statement.
HARROWING CONDITIONS
The military onslaught on parts of Homs has created harrowing conditions for civilians, rebels and journalists.
A video posted by activists on YouTube showed Mohammad al-Mohammad, a doctor at a makeshift clinic in Baba Amro, holding a 15-year-old boy hit in the neck by shrapnel and spitting blood.
It is late at night and Baba Amro is still being bombarded. We can do nothing for this boy, said the doctor, who has also been treating Western journalists wounded in the city.
American correspondent Marie Colvin and French photographer Remi Ochlik were killed in the bombardment of Homs last week and two other Western journalists were wounded. The group is still trapped there despite Red Cross efforts to extricate them.
The International Committee of the Red Cross said on Saturday it was still unable to evacuate distressed civilians from Baba Amro. After a day of talks with Syrian authorities and opposition fighters, it said there were no concrete results.
In Hama, another city with a bloody record of resistance to Baathist rule, one activist said nobody was taking part in the referendum. We will not vote on a constitution drafted by our killer, he said by satellite telephone, asking not to be named.
If the constitution is approved in the vote, a foregone conclusion, it would drop an article making Assad's Baath party the leader of state and society, allow political pluralism and enact a presidential limit of two seven-year terms.
But the limit will not be enforced retrospectively, meaning that Assad, already in power for 11 years, could serve another two terms after his current one expires in 2014.
Dozens of people lined up to vote in two polling stations visited by a Reuters journalist in Damascus. I've come to vote for President Bashar, God protect him and give him victory over his enemies, said Samah Turkmani, in his 50s.
Another voter, Majed Elias, said: This is a national duty, whether I agree or not, I have to come and vote.
This is Syria's third referendum since Assad inherited power from his late father. The first installed him as president in 2000 with an official 97.29 percent 'Yes' vote. The second renewed his term seven years later with 97.62 percent in favor.
(Additional reporting by Khaled Yacoub Oweis in Amman, Mariam Karouny, Erika Solomon and Dominic Evans in Beirut, and Christian Ruettger in Berlin; Editing by Kevin Liffey)
© Copyright Thomson Reuters 2023. All rights reserved.