Boeing 787 On Japan Airlines Boston-Tokyo Flight Makes U-Turn, Returns To Boston
Update 6:22 p.m. EDT -- Japan Airlines Flight JL7 is safely on the ground in Boston. An airport webcam screen cap published by aviation website NYC Aviation shows the Boeing 787-8 on the runway with its thrust reversers open.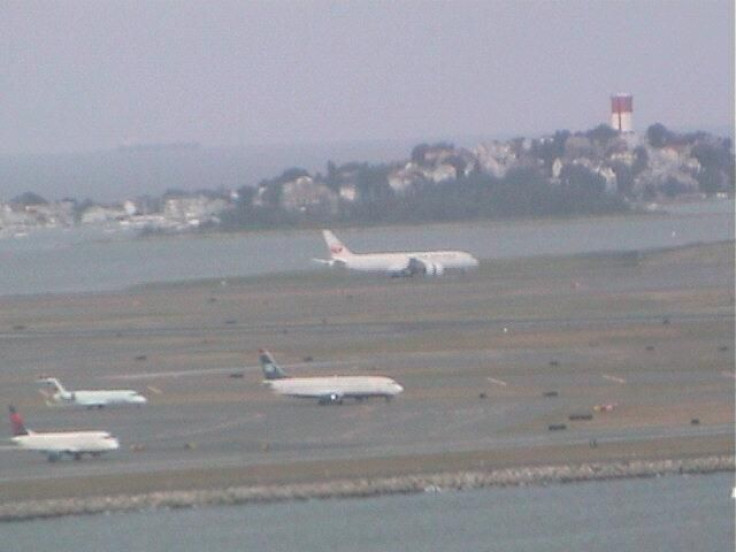 The airport confirmed with a tweet that the plane was taxiing to the gate.
Update 6:05 p.m. EDT -- Flight Japan Airlines JL7 is approaching Boston's Logan airport after circling over the Atlantic for several minutes, likely to burn fuel and reduce landing weight. According to a statement by the U.S. Federal Aviation Administration quoted by local Boston station WCVB, the plane had a fuel pump problem. The crew decided to return to Boston after an indicator light came on signaling that there may be an issue.
Update 5:45 p.m. EDT -- Data from Flightaware shows the 787 is in a holding pattern at 15,000 feet over the Atlantic and flying at 290 knots, a situation that would not be consistent with a major inflight emergency such as an onboard fire. In that case, the crew would have declared "mayday" and would have been given a direct approach to the airport in order to land as soon as possible.
In case of fire or other potentially disastrous event the crew would also have elected to land at an alternate airport along the way. Choosing to return to Boston indicates most likely a less-serious emergency.
The original story begins here:
A Japan Airlines Boeing 787 en route from Boston to Tokyo has made a U-turn over Canada and is returning to Boston, late on Thursday.
The airline said on its website that the diversion of Flight JL7, bound for Tokyo's Narita airport, is "due to aircraft maintenance." No specific causes are known at this time. This screen cap from the Japan Airlines (TYO:9201) website shows an estimated landing time at Boston Logan at 5:50 p.m. EDT on Thursday.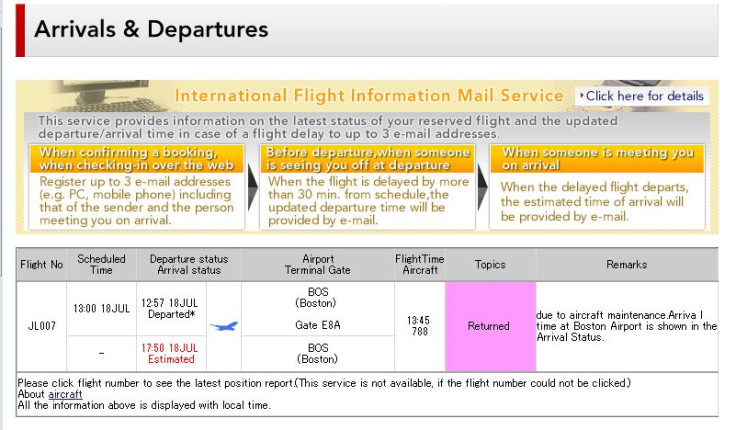 The flight tracking website Flightaware showed the plane making a U-turn over the southern part of Hudson's Bay and flying back towards Boston over Quebec, Canada.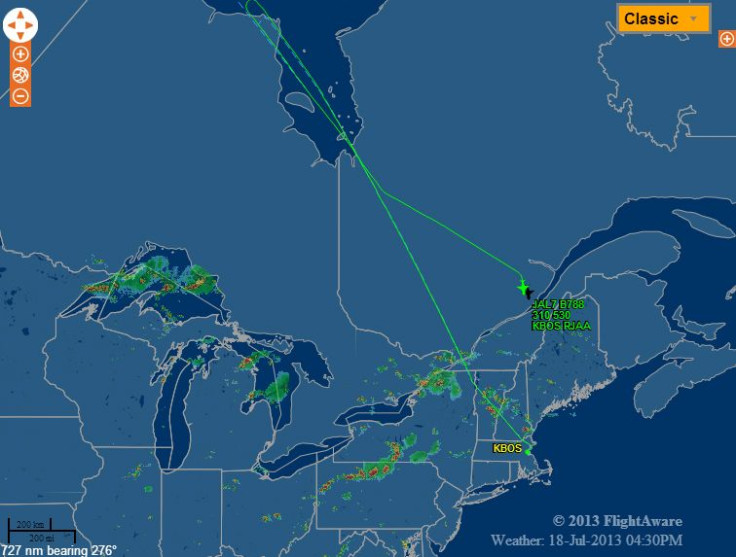 The incident is the latest in a series of problems that have plagued the Boeing Co. (NYSE:BA) Dreamliner, the latest product from Boeing, an innovative twinjet that has introduced a variety of technologies.
Last week, a fire on the ground on an Ethiopian Airlines 787 in London raised fears of a new grounding of all Dreamliners, which were barred worldwide from flying from January to May after a series of problems and a battery fire on the ground in Boston. That incident turned out not to be related to issues with the main battery but with an emergency location transmitter made by Honeywell (NYSE:HON) -- which also happens to contain, however, a lithium-ion battery. Li-ion batteries were responsible for the plane's four-month grounding.
According to aviation website NYC Aviation, the plane involved in the JL7 diversion bears the registration JA822J and had its first flight in January 2011.
© Copyright IBTimes 2023. All rights reserved.