The Boeing Company (BA) Earnings Preview: Analysts Expect 5.7% Boost In Profit For Q2 As Air Giant Recovers From 2013's Rough Start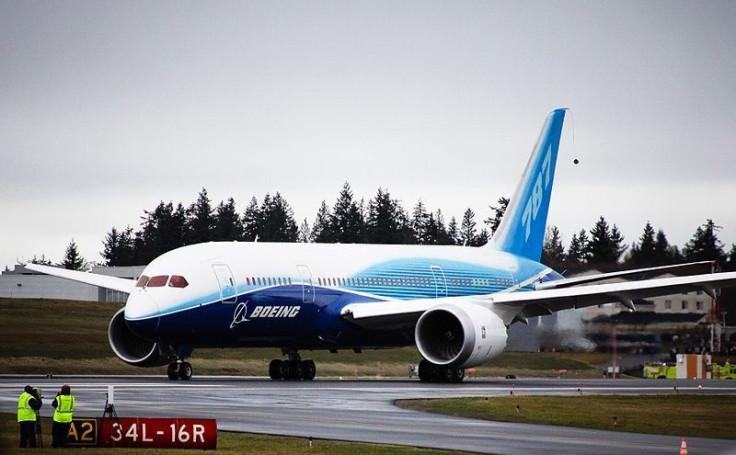 The Boeing Company (NYSE:BA) is expected to report second-quarter earnings higher than the year prior due to efficiencies in business activity that produced higher sales and lower costs. The aviation giant's revenue is forecast to rise by 0.75 billion to $20.73 billion, compared with $20.01 billion in the second quarter of last year, a change of 3.6 percent.
The Chicago-based industry powerhouse will report net income of $1.18 billion, or $1.56 per share, compared with $967 million, or $1.27 per share, in the year-earlier period, a 5.7 percent profit, according to a survey of 21 analysts by Thomson Reuters. The company used the second quarter to reset following a rough start to 2013 when one of its most popular fleets was grounded by regulators. Boeing's commercial deliveries and orders during the second quarter helped it regain its position as the world's largest manufacturer of commercial jets. (It's ahead of Airbus in total aircraft orders, yet still has ground to make up in deliveries.)
Analysts and insiders expect positive earnings for three reasons: First, Boeing significantly outpaced targets for commercial aircraft deliveries during April, May and June, including a strong showing at the Paris Air Show. Second, it kept its operations on track while it worked with the Federal Aviation Administration to contain problems with a faulty battery in one specific aircraft model, the 787 Dreamliner. Third, the company's leadership cut supplier costs and trimmed workers once particular production projects were complete.
Boeing will release its second-quarter earnings Wednesday morning, before markets open.
ORDERS & DELIVERIES
Boeing delivered 169 commercial aircraft during the quarter, soundly beating Oppenheimer & Co Inc.'s projection of 152 deliveries and 10 more than expected by analysts with D.A. Davidson & Co. The tally outpaced the same quarter in the previous year by 13 percent.
"Boeing was able to deliver 16 of its 787 models this quarter. We view this as a positive sign as they were not able to deliver any in the first month of the quarter," said J.B. Groh with Davidson.
The majority of commercial plane deliveries were 737s. Boeing delivered 116 737s versus Oppenheimer's target of 104. There were 23 deliveries of the 777 model, one less than Yair Reiner of Oppenheimer's equity research group estimated; and eight 767 deliveries, three more than expected. The six 747 deliveries matched analyst estimates.
"The company's ability to get an unexpectedly high number of aircraft out the door buoys our confidence in its operating performance," said Reiner.
During the second quarter, Boeing recorded 570 total orders. Of those, 520 were narrow-body regional jets and 50 were wide-body continental aircraft. Orders were slow at the beginning of the quarter, just 51 in April. However, the numbers returned to stronger levels in May and June when they recorded 232 and 287 orders respectively.
Boeing also improved its military business, delivering 31 aircraft compared to Oppenheimer's expected 25, due mostly to the popularity of the F/A-18 and Apache. Boeing is second to Airbus' parent company EADS in military aircraft output.
PARIS AIR SHOW
The industry biggest showcase event happened this quarter, where Airbus claimed orders valued at $68.7 billion dollars; commitments for 466 aircraft, 241 of which were firm purchase orders. Boeing announced orders worth $66 billion, and orders and commitments for 442 aircraft. Yet this is not viewed as a disappointment because historically, Airbus, a French company, announces more sales at the show while Boeing announces them more frequently throughout the year.
Leading up to the show, Singapore Airlines Ltd. (SGX:C6L) announced May 30 its firm order for 30 of the 787-10 planes, becoming that model's launch customer on the condition that BA successfully launches the program.
The company touts the 787-10 as a stretched version of the 787. It will seat 300 to 330 people, fly 7,000 nautical miles, and be 25 percent more efficient than the 787.
Boeing officially launched the new model at the Paris Air Show with commitments from Singapore Airlines, as well as GE Capital Aviation Services LLC, British Airways PLC, United Continental Holdings Inc (NYSE:UAL) and Air Lease Corp (NYSE:AL), which ordered 30. Initial deliveries are targeted for 2018.
"Boeing's new 787 iteration (the -10x) grabbed the spotlight as the program was officially announced and received 92 commitments at the air show, proving that new programs continue to reinvigorate the cycle," said Davidson's Groh.
BATTERY FIX
The FAA announced April 19 that it approved Boeing's design modifications to the 787's battery system, prompting the company to implement safety changes across all grounded models, even though the cause of the problems was never conclusively identified.
As a result, Standard & Poor's rating agency raised its valuation of Boeing in April after it deemed that the aircraft maker had reduced risks related to the 787 model's battery. S&P said that commercial aircraft demand was strong at that time because 787 production ramped up, R&D spending declined, cash flow accelerated and new models like the 777x and 787-10 readied for launch.
Boeing CFO Greg Smith stated in late April that the timing of the 787's events limited Boeing's ability to repurchase shares in the first quarter, "however we expect to begin our repurchase plan in the second quarter," Smith said.
COST REDUCTION
Boeing cut labor costs and supplier costs during the second quarter. Company leadership announced in May that it would cut jobs across the company, most notably laying off 253 workers in its Washington state operation, effective after two months.
Also in May, at the company's annual investors conference, Boeing CEO Jim McNerney announced the launch of a program aimed at increasing productivity through the immediate trimming of supplier costs in a corporate effort dubbed "Partnering for Success." He said suppliers that didn't agree to cut their prices as their contracts were renewed that quarter and for the rest of year, would find themselves on the outside.
"We have no-fly lists across the company," McNerney said. "If a certain group is not working with us ... they'll be on a no-fly list. They'll not be allowed to bid on new programs with Boeing. We have sent out a lot of letters to folks that we've told not to bother to bid on those programs. We remind them: Don't bet against Boeing."
© Copyright IBTimes 2023. All rights reserved.