The Boeing Company (BA) Earnings Preview: Analysts Expect 6% Boost In Profit Despite 3-Month Grounding Of Its Dreamliner 787 Models By FAA After Lithium Ion Battery Fires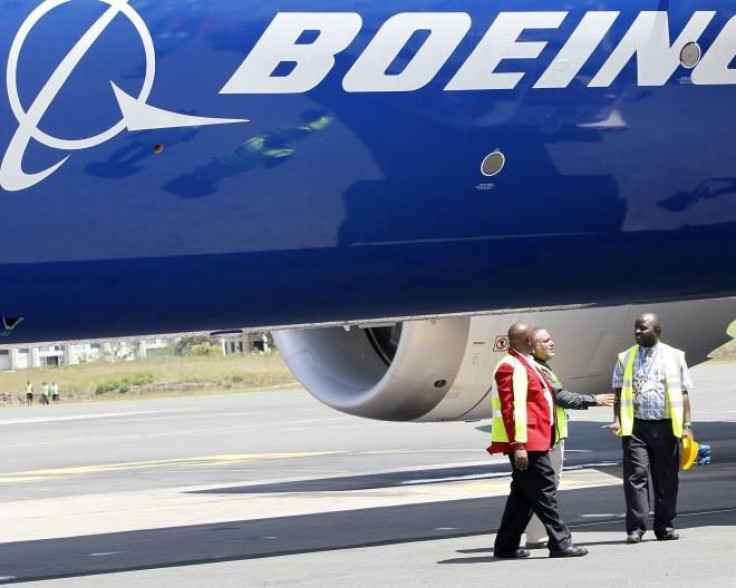 The Boeing Company (NYSE:BA), the biggest U.S. maker of commercial jets and military aircraft, is expected to report a 6 percent profit increase for the first quarter as increased deliveries of high-margin commercial jets offset the effects of the 787 Dreamliner grounding and reduced sales to the Pentagon.
The Chicago-based aviation giant will likely report net income of $1.02 billion, or $1.47 per share, compared with $924 million, or $1.22 per share, in the year-earlier period, according to a survey of 21 analysts by Thomson Reuters. Revenue is expected to fall 2.8 percent to $18.83 billion, compared with $19.38 billion in the first quarter of last year.
Boeing will release its first-quarter earnings Wednesday before markets open.
In mid-January the Federal Aviation Administration grounded all 787 Dreamliners owned by U.S. carriers until problems with the batteries could be fixed. Boeing voluntarily suspended deliveries of the aircraft, resulting in just one delivered in January. That contrasts with 23 Dreamliners delivered in the fourth quarter of 2012.
The FAA's grounding dented 787 sales and, because of costs incurred in designing, testing and retrofitting the batteries, reduced the company's earnings.
Further, automatic U.S. federal-government spending cuts known as the "sequester," which began March 1, are expected to have reduced Boeing's sales to the Pentagon, which accounts for more than 80 percent of the its military sales. The military component of the company's business is strategic, accounting for 40 percent of its total global sales.
In a Feb. 11 filing with the Securities and Exchange Commission, the company said that sequestration will result "in significant additional reductions to spending by the U.S. [Department of Defense] on both existing and new contracts as well as disruption of ongoing programs."
Offsetting the drag of sequestration and the 787 grounding were commercial jet sales, particularly wide-body aircraft, as airlines in both emerging markets and the U.S. upgraded their fleets with new Boeing jets to boost efficiency. During the first three months of 2013, Boeing booked orders for 156 narrow-body planes and another 64 wide-body planes, outpacing D.A. Davidson & Co. analysts' expectations for sales of wide-body models. The 156 narrow-body jets is three more than were delivered in the first quarter of 2012, while the 64 wide-bodies were four more than were delivered in the first quarter of last year.
Because Boeing's margin on wide-body aircraft like its 777 is greater than the margins on its single-aisle planes, the unexpectedly stronger sales of the bigger jets boosted the company's overall profit.
© Copyright IBTimes 2023. All rights reserved.