Boeing Earnings Preview: Airplane 'Mix' Less Profitable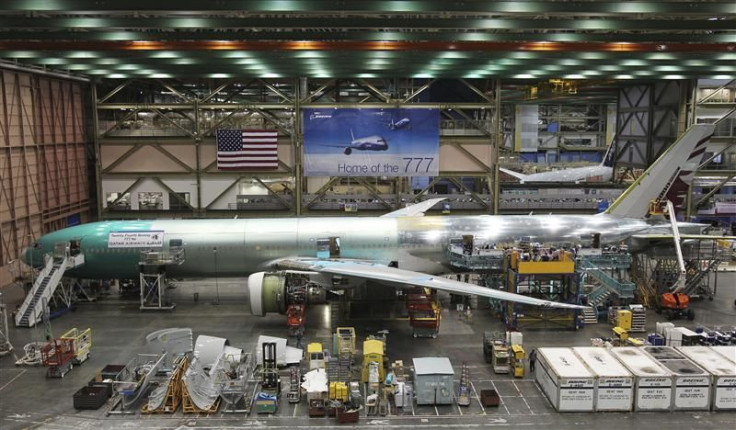 Boeing, the largest U.S. airplane and defense manufacturer, is projected to report lower fourth-quarter earnings because the mix of aircraft delivered was less profitable and the year-earlier quarter saw a favorable tax settlement.
The Boeing Company (NYSE:BA), which will report earnings Wednesday, Jan. 25, before markets open, is expected to have a profit of $1.01 per share, down from $1.56 per share in the previous year, according to Zacks.
The big driver in this past quarter and for 2012 guidance is business mix, said Alex Hamilton, an analyst with Early Bird Capital.
The company's commercial airplane manufacturing business increased fourth-quarter deliveries to 128 compared with 116 a year earlier. But last quarter, Boeing delivered two zero-margin 787 commercial planes compared to the fourth-quarter of 2010, when it did not deliver any 787s and delivered more relatively high-margin 737 aircraft, Hamilton said.
He also said that excluding a one-time tax benefit in the fourth quarter of 2010, which led to a gain of 50 cents per share, is not expected to have been enough to make the fourth quarter of 2011 more profitable.
Meanwhile, the consensus for revenue is a 17.2 percent increase to $19.4 billion from $16.55 billion in the year-earlier quarter.
With no major issues in Q4, we expect Boeing to deliver good results, Robert Stallard, an analyst from RBC Capital Markets, LLC, wrote in a report.
There was some positive news in the fourth quarter regarding Boeing's military division. The Obama administration agreed last year to sell fighter aircraft to Saudi Arabia, which included 84 of Boeing's F-15 jets. Boeing and Northrop Grumman Corp. (NYSE:NOC) also won a contract with the U.S. Missile Defense Agency.
For all of 2011, Boeing's commercial aircraft business had 805 airplane orders, second to European manufacturer Airbus, a division of European Aeronautic Defence & Space (EPA:EAD), which had 1,608 plane orders.
Boeing's performance this year could be strong. It has a substantial backlog of orders totaling over 3,700 aircraft. RBC Capital Markets projected aggregate production for Boeing and Airbus to be up 20 percent in 2012, but said sustained recovery in small- and mid-sized jets remains some way off.
We expect continued strong results and a positive outlook for the aerospace (manufacturing) players, said RBC in its report. Suppliers have already started to see the benefit of these higher volumes.
Boeing said that it planned to increase production of its new 787 commercial jets, hoping to increase delivery rates up to 10 aircraft a month by the end of 2013.
Overall, Boeing's stake in commercial planes should help it in 2012 and beyond to offset defense cuts, while rivals General Dynamics (NYSE:GD) and Lockheed Martin (NYSE:LMT), which focus more exclusively on military production, may be more vulnerable to cutbacks. However, Boeing plans to close a military manufacturing plant in Wichita, Kan., by the end of 2013.
Although defense companies are likely to meet EPS forecasts, we see this being offset by revenue weakness and an uncertain outlook, said RBC.
Shares of Boeing fell 18 cents in late afternoon trading to $75.33.
© Copyright IBTimes 2023. All rights reserved.