Boeing Painted A 747 In Seattle Seahawks Colors For Super Bowl XLVIII [PHOTOS]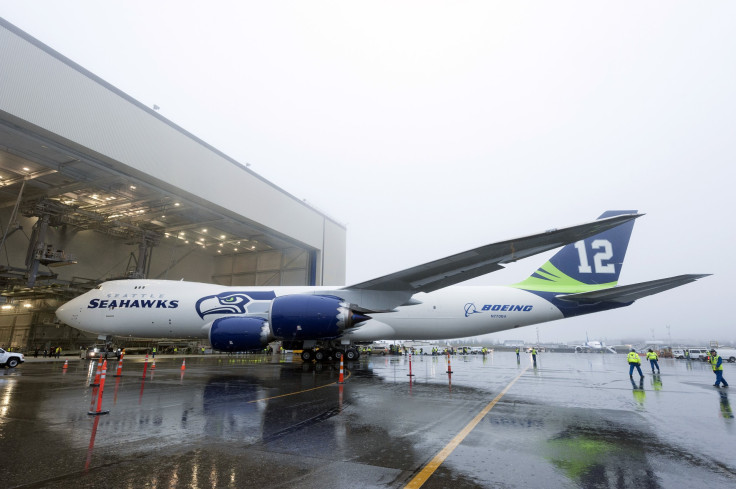 Boeing moved its corporate headquarters from Seattle to Chicago in 2001, but kept building its commercial jets in the Northwestern metropolis -- and supporting its football team, the Seattle Seahawks, which will go to the Super Bowl on Sunday for the second time in its history.
To celebrate the team, Boeing Co. (NYSE:BA) unveiled on Wednesday a 747-8 painted in Seahawks colors. The livery commemorates the team's National Football Conference Championship and upcoming appearance in Super Bowl XLVIII, Boeing said in a statement. The special livery features the Seahawks logo and a "12" on the tail to salute the team's fans, who are known collectively as "the 12th man." Boeing is a sponsor of the Seattle Seahawks and has partnered with the team for more than a decade on programs in the Puget Sound area, the company said.
The Seahawks jet is a cargo version of the 747-8, the latest model of Boeing's venerable Jumbo Jet, whose sales are slumping because newer 777s are able to carry nearly as many passengers, but with two fewer engines, therefore saving expensive fuel. The company sold just 12 747-8s during the entire past year, but had 113 net orders for 777s.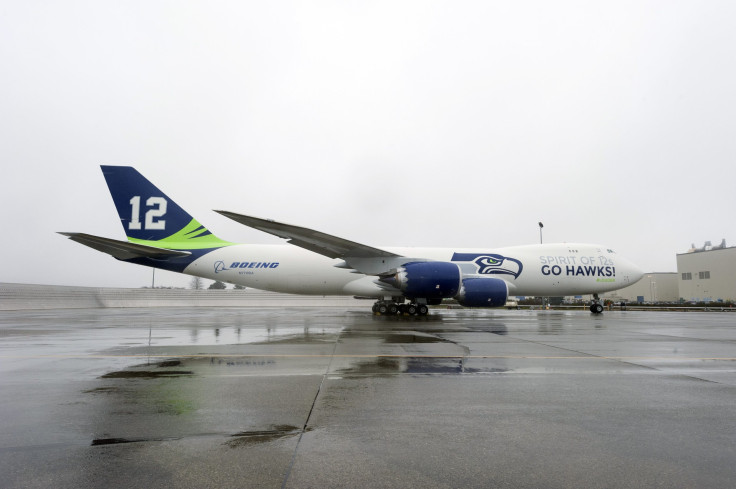 According to an independent production list kept by an aviation site not affiliated with Boeing, the Seahawks 747, identifiable by the registration N770BA, was built for air freight operator Atlas Air, which canceled three of its 12 orders after it was revealed that early model 747-8s suffered from higher fuel consumption than advertised by Boeing. The plane's four engines, their maker General Electric (NYSE:GE) admitted, fell about 2.7 percent short of the promised fuel burn performance. Those problems have since been corrected, with an engine performance fix applied to all 747s built since late 2013.
The Seahawks 747, one of the planes without the engine fix, hasn't found a new customer yet and is currently being used as a flight-test platform by Boeing. It still may enter commercial service in the future; it is not uncommon for large civilian airplanes to spend time parked while airlines wait for demand to pick up. It's safe to say that Boeing will offer the Seahawks jet for significantly less money than the list price for a new 747-8, which is $357.5 million. That's about three and half times the salaries for the entire Seahawks team, according to NFL data.
© Copyright IBTimes 2023. All rights reserved.