Boeing Plans To Cut 800 787 Assembly-Line Jobs In Seattle Area Plus Hundreds More In South Carolina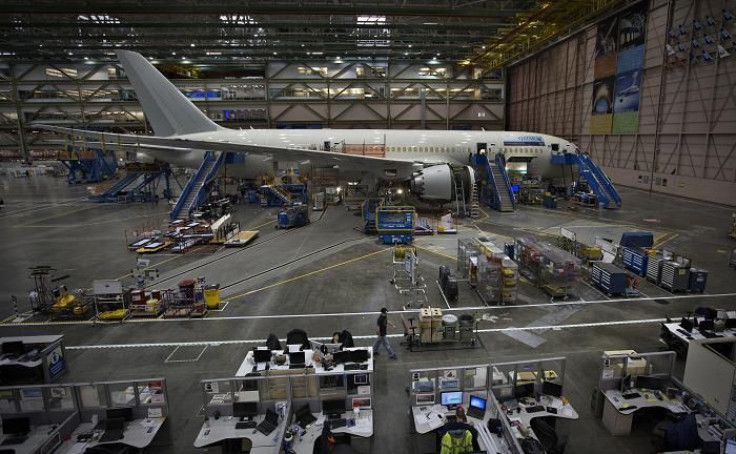 Chicago-based Boeing Co. (NYSE: BA) will lay off approximately 800 Seattle-area machinists by the end of 2013 following completion of certain work on its 787 Dreamliners and 747-8 jumbo jets.
Company spokesman Doug Alder announced to managers in Everett, Wash., on Friday that other reductions will be made through attrition so that the total number of positions cut this year will be between 2,000 and 2,300, according to the Seattle Times.
Alder said the layoffs, which will affect workers who refurbish and modify jets that need work once rolled off the assembly line, are not related to the current grounding of the 787 due to problems with its battery system.
"We always expected employment requirements would come down on these programs after we stabilized production," Alder said. "That's what's happening."
The company already expects to double the 787's production rate from five jets per month to 10 per month by the end of 2013, and modifications performed at the Everett Modification Center are expected to continue into early 2014.
"With 787 and 747 development efforts completing and disruption substantially decreasing, we require fewer resources," another Boeing spokesman, Marc Birtel, told the Wall Street Journal. "We will assess employment needs continuously and may need to hire in some areas to ensure we maintain critical skills."
Mark Blondin, a former president of the local district 751, told the Seattle Times that work refurbishing 747-8s had ended. Blondin added that the layoffs will go according to seniority and will affect newest hires, mostly younger workers.
February figures indicate that Boeing employs 86,198 workers in the Puget Sound region; however, the attrition rate has been lower than expected because older workers delayed retirement in a down economy and reduced the company's savings.
Alder said the 787 assembly complex in North Charleston, S.C., will also let go of hundreds of long-term contract employees during 2013.
© Copyright IBTimes 2023. All rights reserved.