Border Crisis: Obama Seeks Billions In Emergency Funding To Deal With Unaccompanied Minors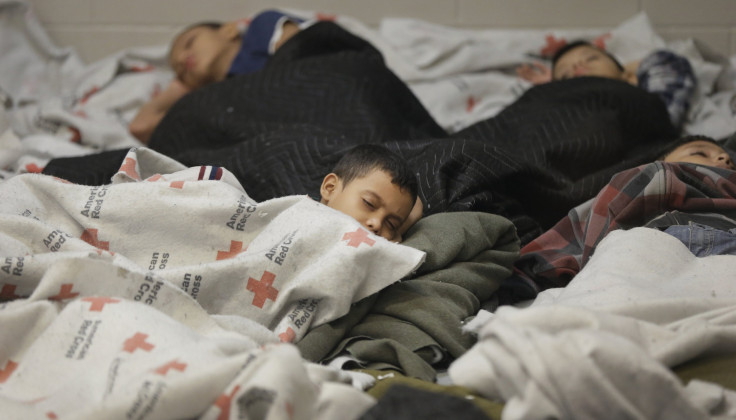 THIS STORY WAS UPDATED AT 1:53 PM EDT.
---------------------------------------------------
President Barack Obama Tuesday asked Congress for $3.7 billion in a supplemental appropriation to deal with the influx of immigrants, many of them children, from Central America who have been crossing into the United States illegally.
Obama sent a letter to Congress, seeking the additional funding for the departments of Homeland Security and Justice to "deploy additional enforcement resources -- including immigration judges, Immigration and Customs Enforcement attorneys and asylum officers -- to focus on individuals and adults traveling with children from Central America and entering without authorization across the southwest border," the White House fact sheet said.
Those funds would help expedite the process of deporting 52,000 unaccompanied minors from Guatemala, Honduras and El Salvador who have overwhelmed the southern border since the beginning of the year. There are also 39,000 women with children who have been apprehended at the border since January.
The administration has been working with the governments of El Salvador, Guatemala, Honduras and Mexico to try to stem the migration.
The money sought Tuesday is to be used for increasing court capacity, enhanced interdiction and prosecution of criminal networks, improved repatriation and stepped up public information campaigns to explain the dangers of the trek. It is also for efforts to address the root causes of the migration, and increasing capacity to deal with the influx.
Humanitarian groups have condemned the deportation of children.
The administration is asking for $1.1 billion for Immigration and Customs Enforcement: $116 million for transportation costs, $109 million for immigration and customs enforcement and $879 million for detention and removal of undocumented adults traveling with children plus expansion of alternatives to detention programs.
Customs and Border Protection would get $433 million for operational costs, information sharing with other agencies and increased air surveillance. The Justice Department would get $64 million to hire 40 additional immigration judge teams and expand legal assistance to immigrants. The State Department and other international programs would get $300 million to support repatriation efforts and run media campaigns to dispel myths about immigration to the United States.
Some $1.8 billion would be allocated to the Department of Health and Human Services to take care of unaccompanied minors.
"Without supplemental funding, absent undertaking extraordinary measures, agencies will not have sufficient resources to adequately address this situation. HHS will be unable to address the influx of children by securing sufficient shelter capacity with the number of children held at Border Patrol stations continuing to increase, for longer periods of time," the White House said.
"Going forward, HHS will be unable to set-up more stable, cost-effective arrangements for these children, Border Patrol agents will have to be re-assigned to child care duties from their border security work, and ICE will lack the resources needed to sufficiently expand detention and removal capacity for adults with children who cross the border illegally.
"In addition, without additional funds, DOJ will be unable to keep pace with its growing caseload, leading to longer wait times for those cases already on the docket. And absent dedicated resources in Central American countries, we will not make progress on the larger drivers of this humanitarian crisis. For these reasons, supplemental resources are urgently needed to continue forward with the aggressive response that the Administration has deployed to date."
U.S. Rep. Hal Rogers, R-Ky., chairman of the House Appropriations Committee, said the body would review the request but couldn't say whether he backs Obama's plan.
"Plainly, the situation for many of these unaccompanied children is extremely dire, and the United States has both a security and a moral obligation to help solve the crisis at hand," he told the Wall Street Journal.
The influx of illegal immigrants has been blamed on misinterpretations among Central Americans who believe the U.S. will not deport children who cross the border. Late last month, Obama announced he would take executive action to move Department of Homeland Security resources closer to the border. He also said he would ask Attorney General Eric Holder and DHS Secretary Jeh Johnson for recommendations on other options he has to address the situation.
© Copyright IBTimes 2023. All rights reserved.
FOLLOW MORE IBT NEWS ON THE BELOW CHANNELS