Brazil - Mexico VIDEO: Highlights from the October 11, 2011 Friendly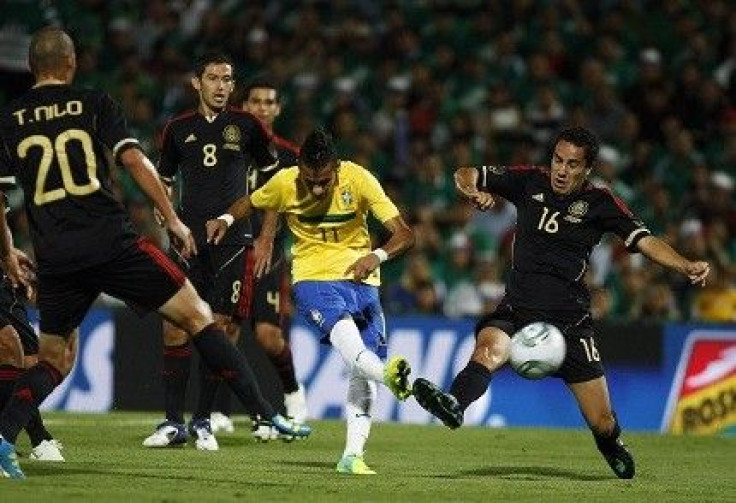 Playing a goal down, a man down, and on the road, Brazil still found a way to defeat Mexico, 2-1, an in international friendly in Torreon, Mexico, at Estadio Corona.
Brazil allowed Mexico to get on the board when defender David Luiz knocked the ball into his own net for an own goal in the 12th minute.
Then, before halftime, normally reliable defender Dani Alves earned his second yellow with a foul of Javier El Chicharito Hernandez in the box, to force Brazil to play with only 10 men, and set up a penalty kick for Mexico.
But Mexico failed to increase their lead as Andres Guardado's penalty kick was saved by Brazil goalkeeper Jefferson, who was filling in for Julio Cesar.
Late in the second half, Brazil would storm back. After Neymar was fouled outside the box, veteran Ronaldinho delivered a free kick goal in the 79th minute.
Four minutes later, left back Marcelo, who has inexplicably been used sparingly for Brazil, weaved into the box to score the go-ahead goal. It was the Real Madrid star's first goal for Brazil.
The match was a momentum killer for Mexico, who had no losses in 14 matches under head coach Jose Manuel De la Torre.
As the host country for 2014, Brazil automatically qualifiies, so head coach Mano Menezes basically has a few years to treat these matches as tune-ups to see what players work well together,.
Check out the highlights of the match by clicking on the link below:
http://youtu.be/TAOYZuDHIVk
© Copyright IBTimes 2023. All rights reserved.