Brazil Shows How Too Much Consumer Debt Can Threaten An Economy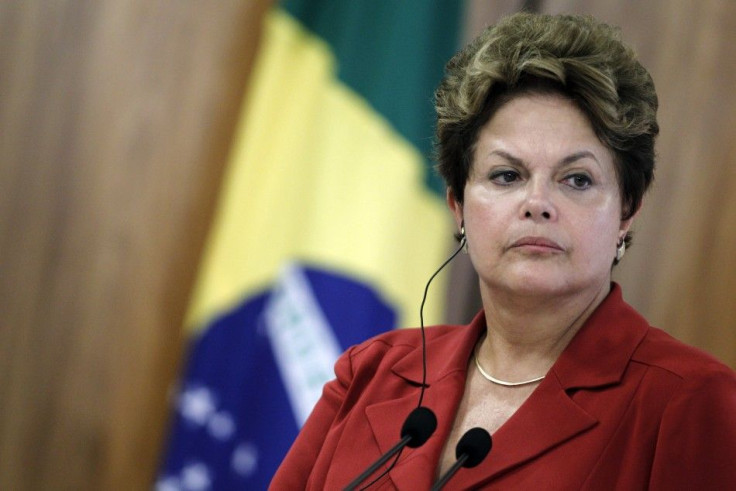 BRASILIA, Brazil - Brazil is one of the world's great economic success stories. Within the last decade it has become the sixth-largest economy on the globe, with a healthy growth rate that averaged around 4 percent in the 2000s. It exports huge amounts of raw materials, extracts oil, is a top automobile producer making more cars than France and Italy combined, and has become a global powerhouse in technologies that used to be the province of the top advanced nations, like aerospace manufacturing.
But beneath the brilliant numbers (and the inequality, as Brazil is only number 101 in the world by income per capita, according to the CIA's World Factbook) there is a hidden risk that could jeopardize the success of the biggest economy in the Americas after the United States: debt. It's not the kind of national debt that is worrying Brazil's big neighbor to the north. Whereas the U.S. has a public debt now equal to the size of its economy, Brazil's is at a far more manageable 40 percent -- but its problem lies with the debt of its consumers. It's a burden that is choking the middle class and could hurt sales of some of the very goods, from cars to appliances, that have historically been the foundation of the country's industrial boom.
The latest statistics released by the Brazilian National Confederation of Commerce (CNC) show that the total number of indebted or bankrupt Brazilian families grew slightly to 57.3 percent in June from 55.9 percent in May. Granted, that is better than the 64.1 percent of all families in debt or bankrupt in June of last year. But it's a level still considered too high by many economic experts, who believe that the government is creating long-term debt for the sake of short-term economic growth.
Unaffordable Loans
Brazilians are maxing out credit cards and taking out loans they can't afford so they can participate in the country's economic miracle, and that's a bad idea in the long run, according to Roberto Piscitelli, an economics professor at the University of Brasilia: "People are using all of the credit available to them. This is absurd and is much too high," he warned. Some say that families can use up to 30 percent of their monthly income toward debt repayment, but with fixed monthly costs of rent, school fees, Internet and condominium fees, that sometimes eats up to 40 percent of their monthly income.
The credit rating agency Serasa Experian found a 19.1 percent growth in the number of Brazilian debt defaulters in the first semester of this year, compared to the same period last year, reported the newspaper Folha de São Paulo. The agency blamed this rise in defaulters on the increasing use of expensive types of debt, such as overdrawn bank accounts and credit cards, and of high-value car loans and home mortgages, which it said has led to a loss of control in debt management. On average each Brazilian defaulter has four defaulted debts, and 60 percent of the defaulters have debts above 100 percent of their income. Serasa Experian also reported that the number of bounced checks in the country had hit 2.07 percent in the first quarter of this year, the highest level since the same period in 2009.
Some economists blame the uptick in unpaid debt on the federal government's recent moves to drive down interest rates, with the Central Bank cutting its benchmark Selic rate from 8.5 to 8 percent on July 11, its lowest level since 2009, in an effort to stimulate consumer spending. Government-controlled banks such as Banco do Brasil and Caixa Economica Federal cut their interest rates in April, forcing privately-owned banks to do the same to remain competitive.
"Stimulating consumption will not lead to sustainable economic growth, because Brazilian manufacturers, even with a weakened real, cannot compete with cheaper imports," Mailson da Nóbrega, a former finance minister, told the Brazilian TV news program Jornal Nacional last month.
Despite these cuts, Brazilians still pay some of the highest interest rates in the world, especially on credit card debt and bank overdrafts, with interest reaching more than 150 percent a year on some types of debt.
Silvânia Fernanda Neri Farias, a 29-year-old housekeeper and single mother from the state of Minas Gerais, is a good example of the extortionate interest rates that poorer Brazilians pay when buying goods in installments. Despite making 960 reais a month (USD 480), well above the minimum salary, she struggles to make ends meet. "The interest that I pay is very high, it's a lot of money for me to shell out," says Farias about the nine installments she is paying on a wardrobe. "I'm going to pay R$641 in interest alone over what I would have paid if I had bought the wardrobe in one go," she said. And she is already behind on several payments for other goods she bought on credit.
The Paradox Of Too Much Stimulus?
According to Jornal Nacional, the indebtedness of Brazilian families has doubled in the last 10 years. Paradoxically, that may be due also to the success of government programs aimed at lifting people from the great mass of the extremely poor. Under the Bolsa Família or family purse program started in the 1990s, families earning less than one minimum salary a month get an average of R$ 65 a month (USD 32.50) from the federal government for each child they have. In 2010, as many 12.4 million Brazilian families benefited from the program, which cost government coffers the equivalent of USD 6.5 billion, according to the Ministry of Social Development.
Combined with fast economic growth, that money is making formerly destitute Brazilians into consumers. But what the global, open economy gives it can also take away -- and Brazil is experiencing the phenomenon firsthand, suffering a slowdown of its heady growth rate due in part to a flood of cheaper imports that Brazilian manufacturers find hard to compete with.
So the government has adopted a series of tax breaks for car manufacturers and makers of white goods, to stimulate consumption. But some economists are wary of these methods, saying this will only work in the short term -- and will push Brazilians to borrow more still.
"The Brazilian government is driving more Brazilians into debt in order to boost growth figures," said Manuel Enriquez Garcia, an economics professor at the University of Sao Paulo, and president of the Order of Economists of Brazil. And the data makes it clear that it's people who are slightly better off, the middle class that's key to a sustainable economic rise, who are being hit the most by the unintended effects of these tax breaks. The latest CNC figures show that in families earning more than 10 minimum salaries a month, 20.5 percent of their monthly income is spent on paying back car loans, compared to only 8.5 percent of the monthly income of those earning up to 10 minimum salaries a month, Garcia said.
The majority of household debt, though, is in credit cards. Both Piscitelli and Garcia believe that most Brazilians are not feeling the benefits of the interest rate cuts because 74 percent of their debt is on their credit cards, which charge from 12 to 13 percent interest a month. And in any case, "credit card operators are privately owned," explained Garcia, "the government does not have much leverage over the interest rates they charge."
The picture isn't all bleak, though. Brazil still behaves in many ways like a developing country, and can still rely on large areas of untapped growth: "Our incomes are growing and jobs on offer are increasing, and that is a good thing," said Piscitelli.
Already, private sector economists have reduced their annual growth projections for this year and the next to a little more than 2 percent. That figure would be a boon for the developed, but currently falling, economies of Europe. In Brazil it's relatively anemic, but in keeping with a declining trend, from 7.5 percent in 2010 to 2.7 percent in 2011. And that two-percent growth, combined with heavy debt, is enough to make economists worry about the sustainability of the great economic success story of the Americas.
© Copyright IBTimes 2023. All rights reserved.
FOLLOW MORE IBT NEWS ON THE BELOW CHANNELS