Brazil's Rousseff Loses Crucial Impeachment Vote In Congress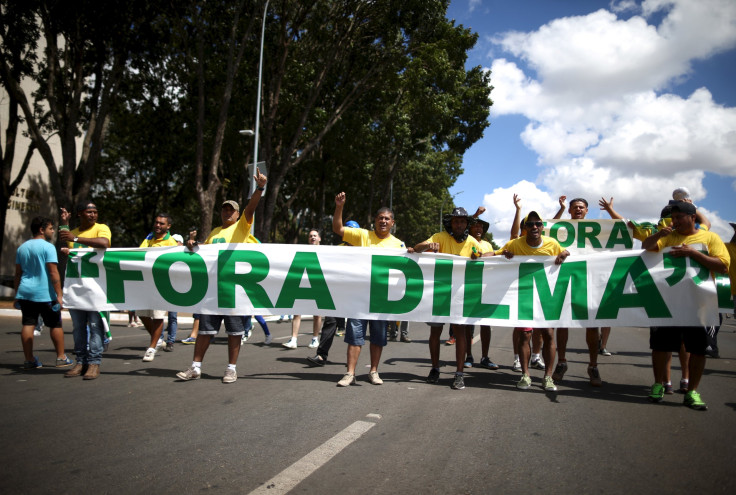 Brazilian President Dilma Rousseff lost a decisive impeachment vote in the lower house of Congress on Sunday and appeared almost certain to be forced from office in a move that would end 13 years of leftist Workers' Party rule.
As thousands of pro- and anti-impeachment protesters demonstrated outside Congress, the leader of the Workers' Party in the lower house conceded defeat with the vote standing at 314 votes in favor to just 110 votes against sending Rousseff for trial in the Senate on charges of manipulating budget accounts.
The surprisingly one-sided vote had a raucous atmosphere with opposition legislators crowding around the microphone and cheering every vote against the unpopular president. At least two deputies let off poppers full of confetti as they voted to impeach Rousseff.
If the Senate agrees to go ahead with the impeachment, as seems likely, Rousseff would be suspended from her post and be replaced by Vice President Michel Temer as acting president pending her trial. Temer would serve out Rousseff's term until 2018 if she is found guilty.
The impeachment battle, which comes during Brazil's worst recession since the 1930s, has divided the country of 200 million people more deeply than at any time since the end of its military dictatorship in 1985.
It has also sparked a bitter battle between the 68-year-old Rousseff and Temer, 75, that appears likely to destabilize any future government and plunge Brazil into months of uncertainty.
Despite anger at rising unemployment, Rousseff's Workers' Party can rely on strong support among millions of working-class Brazilians, who credit its welfare programs with pulling their families out of poverty during the past decade.
"The fight is going to continue now in the streets and in the federal Senate," said Jose Guimaraes, the leader of the Workers' Party in the lower house, conceding that the government had lost the vote. "We lost because the coup-mongers were stronger."
Opinion polls suggest more than 60 percent of Brazilians support impeaching Rousseff, Brazil's first female president.
While she has not been accused of corruption, Rousseff's government has been tainted by a vast graft scandal at state oil company Petrobras and by the economic recession.
© Copyright Thomson Reuters 2023. All rights reserved.