'Into The Breach' Is Getting A Free Expansion: See Release Date
KEY POINTS
"Into the Breach: Advanced Edition" will feature new weapons, mechs, enemies and missions
The expansion will be free for everyone who owns the base game on PC and Nintendo Switch
"Into the Breach" is coming to mobile devices via Netflix Games
Iconic pixel-art strategy game "Into the Breach" is getting a free expansion after years of dormancy, promising more robots to command, weapons to shoot and big monsters to beat.
The game is essentially getting upgraded to "Into the Breach: Advanced Edition," which will introduce about 40 weapons, the "Unfair" difficulty level, five mech squads and even more giant bugs in the form of normal and boss-type targets. Additionally, players will get to use new pilots and take them across missions featuring new objectives.
Developer Subset Games released a trailer previewing these new additions as well as a few surprise announcements by the end of the video.
"Into the Breach: Advanced Edition" will be coming to PC and the Nintendo Switch on July 19 as a free update to the base game. It will also head to mobile devices via Netflix Games on the same date.
The game's pixel-art graphics means that the vast majority of modern smartphones and tablets will be able to run it without much trouble. According to the trailer, the UI and controls seem to be fairly optimized for small-screen gaming.
Both Android and iOS users will be able to play "Into the Breach" but only if they're subscribed to Netflix's game streaming service. It won't be available on the respective app stores tied to each operating system, but it's unclear if the game's exclusivity is timed or not.
"Into the Breach" was well-received when it first launched in 2018. The game puts players on a mission to save the world from a race of alien insectoids called the Vek by using gigantic, heavily-armed mechs. The premise harkens to the Kaiju/Monster Movie sub-genre but in the style of an isometric, turn-based strategy game.
Despite the enemy attacks being telegraphed one turn in advance, the game's smart AI is capable of forcing players into making difficult decisions regarding which losses are more acceptable. "Into the Breach" does a good job emulating and implementing a chess-like strategy into a relatively straightforward game about mechs and monsters.
The release of the free expansion may add even more depth to the game's combat, which is something that many fans have been asking for over the years.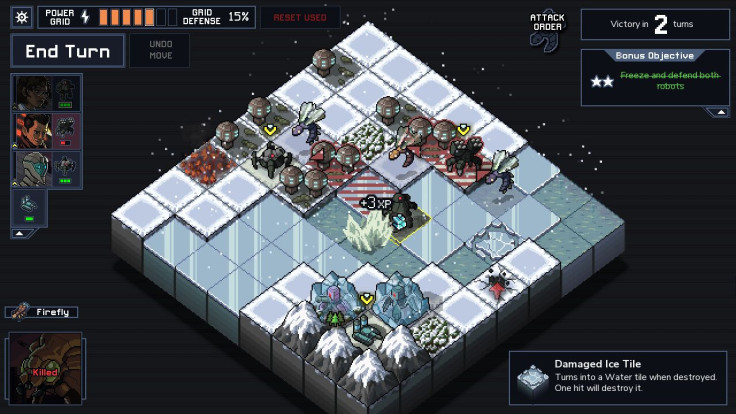 © Copyright IBTimes 2023. All rights reserved.