Brittney Griner: 5 Things To Know About Baylor's Star Player, From Her Dunks To Her Shoe Size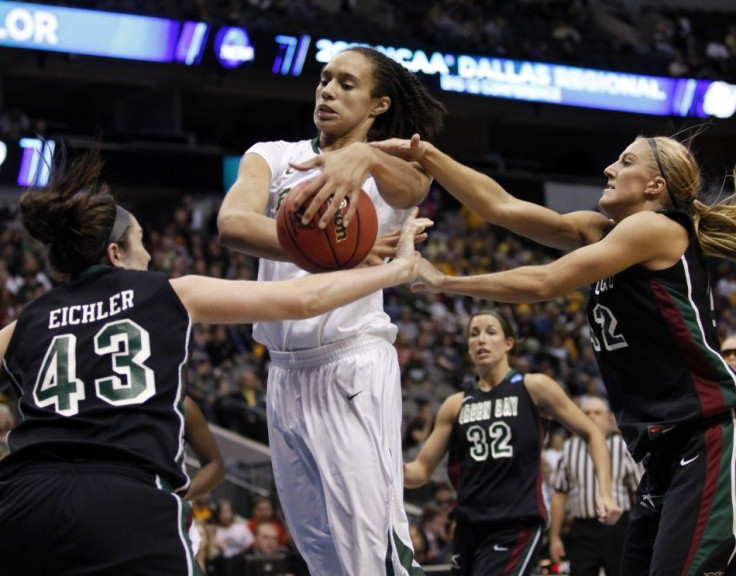 Baylor center Brittney Griner has taken the 2012 NCAA Women's College Basketball Tournament by storm, leading the Lady Bears to the Women's Final Four in Denver.
Without a doubt, Griner is the most dominant player in the tournament, as evidenced by her one-handed jam against the Florida Gators in the second round of the tournament. The jam was Griner's first slam this season, although she has a history of dunking throughout her Baylor career.
With Griner down low, Baylor has beaten its four tournament opponents by an average of 23.5 points.
If you haven't heard of Griner until her overpowering performance in this year's tournament, here's five things to know about the Baylor women's basketball star.
1. Size
Griner is 6-foot-8 and wears a men's 18 shoe. She grew eight inches in high school.
2. High School
Griner attended Nimitz High School in Houston, where she starred on the basketball and volleyball teams due to her size.
As a senior at Nimitz, Griner was ranked as the No. 1 female college basketball recruit in the country. She averaged 33 points, 15 rebound and 11 blocks a game for her high school.
3. Controversy
Griner was ejected for punching Texas Tech's Jordan Barncastle in the face during the game that left Barncastle with a broken nose. Video of the game showed Griner was being pushed around by Barncastle.
Griner was suspended one game by the NCAA and an additional game by her coach, Kim Mulkey.
4. Dunking ability
Griner's 6-foot-8 frame gives her a rare ability in the women's game: dunking. Whether it was warming up for a game at Nimitz High School or as a Baylor Lady Bear against Florida in the 2012 NCAA Tournament, Griner's jams leave us in awe of her talent.
5. Accolades
As a freshman at Baylor, Griner received the United States Basketball Writers' Association Freshman of the Year award and was named a second-team All-American.
In her sophomore season, Griner was voted a first-team All-American, National Defensive Player of the Year and Big 12 Conference Player of the Year.
© Copyright IBTimes 2023. All rights reserved.