Burkina Faso And Mali To Coordinate Forces After Deadly Attacks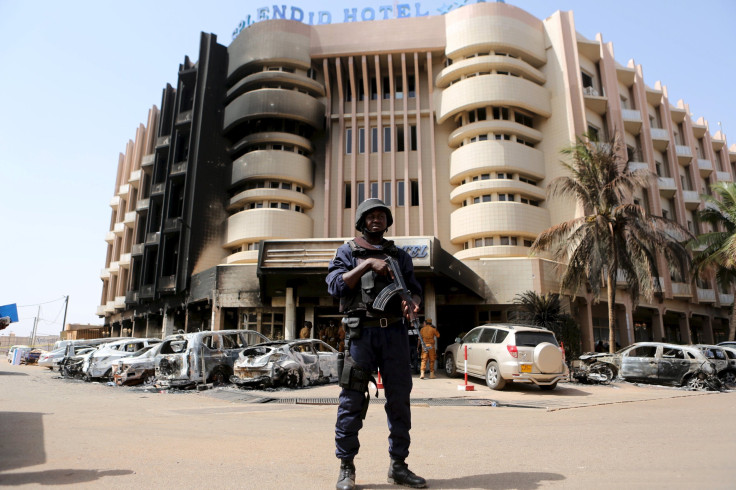 Burkina Faso and Mali have agreed to work together to counter the growing threat of Islamic militants in West Africa by sharing intelligence and conducting joint security patrols following two deadly and well-coordinated attacks in the region. Their prime ministers met on Sunday, two days after al Qaeda militants seized the Splendid Hotel in Burkina Faso's capital Ouagadougou, opened fire on a restaurant and attacked another hotel nearby, killing at least 28 people from at least seven countries, and wounding 50 other people.
The assault, claimed by al Qaeda in the Islamic Maghreb (AQIM), follows a similar raid in November on a luxury hotel in Mali's capital, Bamako, which killed 20 people, including citizens of Russia, China and the United States.
In a statement on the Burkina Faso assault that was reported by the SITE Intelligence Group, AQIM said: "This blessed operation is but a drop in the sea of global jihad."
The militant group identified three attackers and called the targeted hotel and surrounding areas "one of the most dangerous dens of global espionage in the west of the African continent."
The exact details of the cooperation between Burkina Faso and Mali were not immediately clear, but the patrols and intelligence sharing mark an intent by the two countries to prevent the spread of militancy as AQIM and others expand operations in the region beyond their usual reach.
For years, Islamic militants have used northern Mali as a base, but over the past year they have staged a number of attacks in other parts of the country. Burkina Faso's authorities are now concerned that its long desert border with Mali could become a transit point for militants.
"There is a very strong political will on the part of the two states to combine our efforts to fight terrorism," said Burkina Faso's prime minister, Paul Kaba Thieba.
Thieba and his Malian counterpart Modibo Keita visited the outside of the Splendid Hotel on Sunday, where bullet holes and a charred exterior offered reminders of Friday evening's attack.
Tight security was in place around the hotel. Inside, Burkinabe and French security officials were conducting an investigation.
Security forces in Burkina Faso retook the 146-room hotel on Saturday after firefights with militants, at least three of whom were killed. Survivors said the militants targeted white victims at the hotel and at the restaurant, both of which were popular among westerners.
According to provisional figures from the Burkinabe government, among the dead were eight Burkinabes, four Canadians, three Ukrainians, two Portuguese, two French, two Swiss and one Dutch citizen. Seven bodies are yet to be identified, and the list is subject to change. Canadian Prime Minister Justin Trudeau on Saturday said six Canadians had been killed.
A nine-year-old Italian boy and his mother were killed in the assault on Cappuccino, the restaurant attacked opposite the Splendid Hotel, Italy's foreign ministry said on Sunday. The boy, Michel Santomenna, and his mother were the son and wife of the restaurant owner, Gaetano Santomenna. She was not Italian and has not yet been named.
"Italy will continue to work to ensure that the international community remains united and intensifies its efforts to fight the terrorist threat, which once again showed its most inhuman and cruel face by targeting innocent civilians," it said.
(Additional reporting by Steve Scherer in Rome and Peter Cooney in Washington; Writing by Edward McAllister; Editing by Richard Balmforth and Chris Reese)
© Copyright Thomson Reuters 2023. All rights reserved.