California Is Cutting Its Greenhouse Gas Emissions By 40%; Here's How The State Can Get There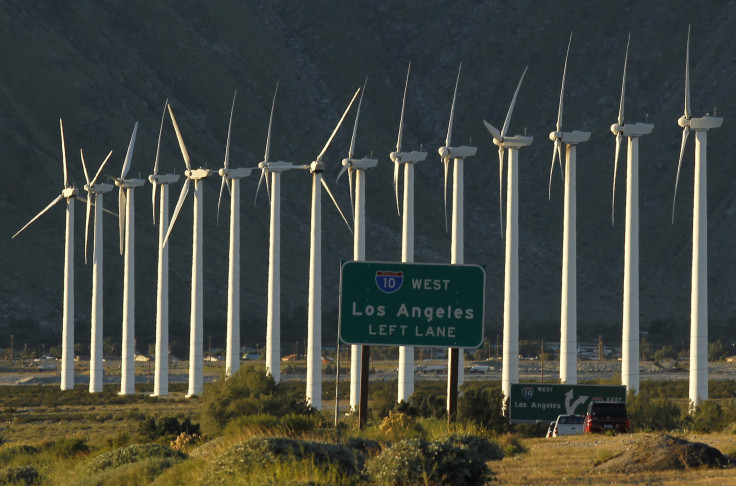 Gov. Jerry Brown's new target for curbing California's greenhouse gas emissions is the most aggressive mandate in the country. But achieving that standard will be difficult unless other states ramp up their own production of renewable energy supplies, biofuels and petroleum-free cars -- all of which California needs to slash its energy-related emissions.
"California can't do it alone," said Chris Busch, director of research at Energy Innovation, an environmental policy firm in San Francisco. "Most fundamentally we need to inspire and encourage others to follow similar steps."
Brown's executive order requires California to cut its emissions by 40 percent by 2030, compared to 1990 levels. "With this order, California sets a very high bar for itself and other states and nations, but it's one that must be reached, for this generation and generations to come," Brown said at a Wednesday news conference.
The target is designed to keep California on pace to cut emissions by 80 percent by 2050, a goal created by a landmark 2006 global warming law signed by then-Gov. Arnold Schwarzenegger. California is also required to reduce emissions to 1990 levels by 2020, which Brown said the state is on track to accomplish.
Brown recently proposed a series of related environmental measures designed to cut carbon dioxide from California's energy sectors in the next 15 years. The governor said he wants to get 50 percent of the state's electricity from solar, wind and other renewable sources by 2030, up from an existing target of 33 percent. He also proposed cutting petroleum use in cars and trucks by half and doubling the energy efficiency of existing buildings.
The governor's order this week did not include details about how the Golden State will achieve its aggressive climate goals. Much of its progress will mean expanding or extending the state's existing policies. California's cap-and-trade market now requires power plants and large industrial polluters to reduce emissions by 15 percent, but only through 2020. The low-carbon fuel standard aims to cut the "carbon intensity" of transportation fuels by 10 percent over the same time frame.
Various studies on California's emissions ambitions point to at least three major areas where the state needs support from policymakers and entrepreneurs in other states. Those groups could be spurred to invest more in clean electricity, cars and appliances thanks to the 40 percent target, said Alex Jackson, legal director of the California Climate Project at the Natural Resources Defense Council.
"For the investors and the regulatory community that's looking at where California is moving on clean energy policy, this removes any doubt about where we're headed," Jackson said. "To the extent that there was some capital or businesses sitting on the sideline, I think a signal like this is going to help get them in the game."
The three areas where California needs a boost beyond its borders include:
Renewable Energy Supplies
California will need to grow its imports of clean electricity from other states and Canadian provinces to achieve its renewables goals, says an April analysis of California's climate policies, prepared by consulting firm Energy and Environmental Economics (E3) and Lawrence Berkeley National Laboratory.
The Golden State already gets about 20 percent of its electricity from solar, wind and other renewable energy sources, and California is home to about 10 percent of the country's wind energy capacity and nearly half its solar power capacity.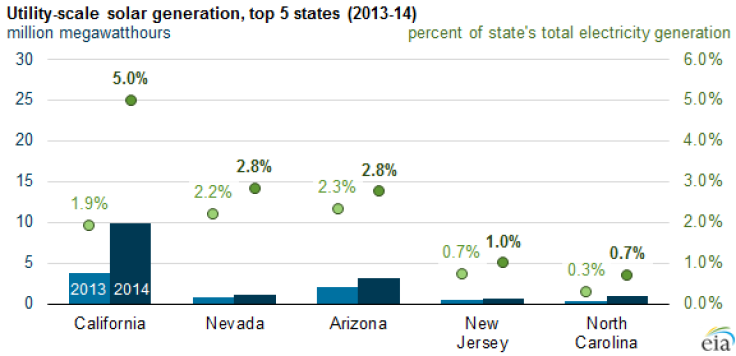 But because renewables are intermittent by nature -- wind turbines stop and start as the wind blows, for instance -- utilities need to get their supplies from multiple locations. If wind turbines stop spinning in one area, the power company can grab megawatts from an active wind farm, reducing the need for back-up natural gas supplies and allowing utilities to be more flexible.
"Regionalization is crucial" for California, said Busch of Energy Innovation, which reached the same conclusion in a March policy paper. Achieving that will require other states to adopt more favorable policies and subsidies for renewable energy projects, which so far represent only a sliver of most states' energy supplies.
Cleaner Transportation
To meet its emission targets, California will need as many as 8 million electric and hydrogen cars on the road by 2030, or about a fourth of the motor vehicles registered in the state, E3 estimated. Californians drive only about 100,000 of those "zero emissions vehicles" today. For conventional cars, drivers will have to fill up with billions of gallons in alternative fuels, including biofuels made from plants, algae or corn stalks -- the bulk of which are likely to be imported from refineries in other states, E3 said.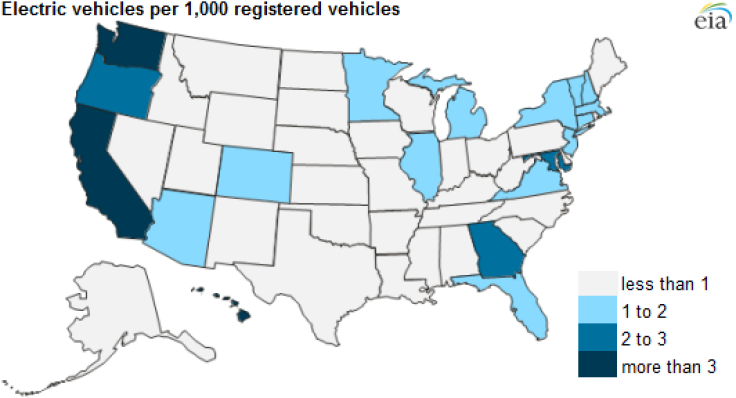 The good news for California is that these niche technologies already exist. Yet automakers and biofuels producers across the country aren't cranking out the kinds of volumes California will require to replace its dirtier gas-powered cars with lower emissions vehicles. In many states, demand is too low to encourage manufacturers to ramp up production. High costs, a lack of electric-car charging stations and cheap gasoline have dampened interest among consumers. Expanding the country's clean transportation -- and making it more affordable -- is key to Californians buying the cars and fuels they need to slash emissions.
Energy-Efficient Technologies
California can boost energy efficiency in houses, buildings and cars largely on its own by tightening electricity regulations and strengthening building codes. California regulators, for instance, could limit the amount of electricity utilities can sell on a per capita basis, forcing companies to sell fewer kilowatt-hours over time, Energy Innovation proposed in its policy report.
For consumers, installing energy-sipping appliances is crucial. As with clean transportation, producers in other states must develop more of these technologies to provide the scale and affordability California needs to reach its targets. Over the next 15 years, more than half of new sales of residential water heaters and ventilation systems will have to be highly efficient models powered by solar panels or clean grid power, E3 found in one of its emissions-reduction scenarios. Another scenario proposed that half of the natural gas used to heat buildings came from "biogas," a fuel harnessed from municipal waste, sewage or manure instead of fossil fuel reserves.
"In the long-run, actions from other states, the federal government, and the international community are needed in order to achieve the levels of carbon reductions evaluated in these scenarios, both in terms of creating markets and economies of scale for low-carbon technologies, and in terms of mitigating the risks of global climate change," authors of the E3 study said.
© Copyright IBTimes 2022. All rights reserved.
FOLLOW MORE IBT NEWS ON THE BELOW CHANNELS