Campus Sexual Assault: Joe Biden Talks College Rape Culture, Consent As 'It's On Us' Expands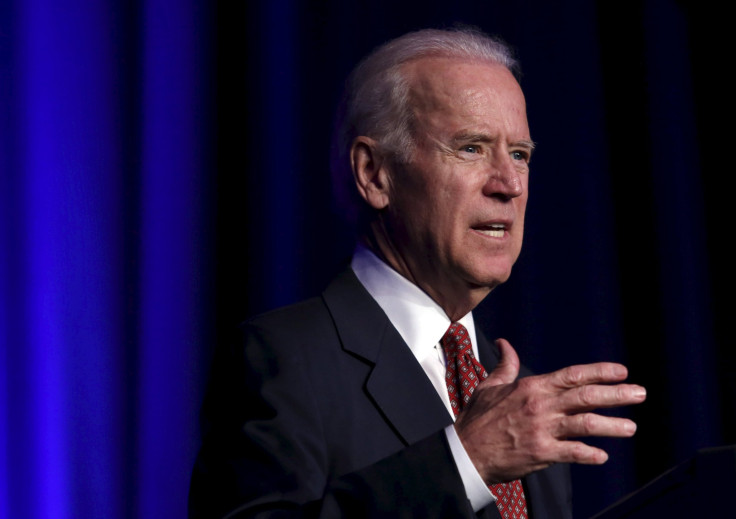 Sexual assault is still a pervasive problem on college campuses, U.S. Vice President Joe Biden said Thursday, and everyone has a responsibility to stop it. At the University of Illinois at Urbana-Champaign, Biden outlined not only what he has done to reduce violence against women but also what students could do. His appearance coincided with an update from the White House on its sexual assault task force.
Biden started his speech by speaking quietly, saying in part that 80 percent of the 14 million women who have been raped in their lifetime were assaulted before age 25. Then he started shouting. "Enough is enough," Biden said. "This must stop, and it is able to stop."
He visited the university to promote the "It's On Us" initiative, which the Obama administration launched in September. The White House previously formed the Task Force to Protect Students From Sexual Assault in January 2014.
It's On Us asks participants to take an online pledge to intervene in dangerous situations, recognize the definition of consent and create healthy environments. About 200,000 people have taken the pledge, a news release said. About 300 campuses had It's On Us campaigns, and 190 made public service announcements.
Biden said that It's On Us activists were making America confront its "dirty little secret," adding that colleges also needed to improve the way they handle sexual assault cases. The U.S. Department of Education is currently investigating more than 100 possible violations of the Title IX discrimination law.
"No means no -- and no exceptions," he said. "It's not only grounds for discipline and expulsion. You should go to jail if you engage in that activity."
In the meantime, the White House intends to keep growing the campaign. For example, there are plans in place for the websites Funny Or Die and Pandora to both start airing It's On Us content, and the initiative will be featured in an episode of NBC's "Law & Order: SVU" this weekend. Fraternities and sororities, including Alpha Chi Rho, Kappa Kappa Gamma, Pi Kappa Alpha and Zeta Beta Tau, have also pledged to host It's On Us events.
Biden, who as a senator introduced the 1990 Violence Against Women Act, said it would be difficult but possible to end sexual assault. "It's on us," he added. "It's on me."
© Copyright IBTimes 2023. All rights reserved.
FOLLOW MORE IBT NEWS ON THE BELOW CHANNELS