Can Priests Marry? Pope Francis Says Catholic Church May Change Tradition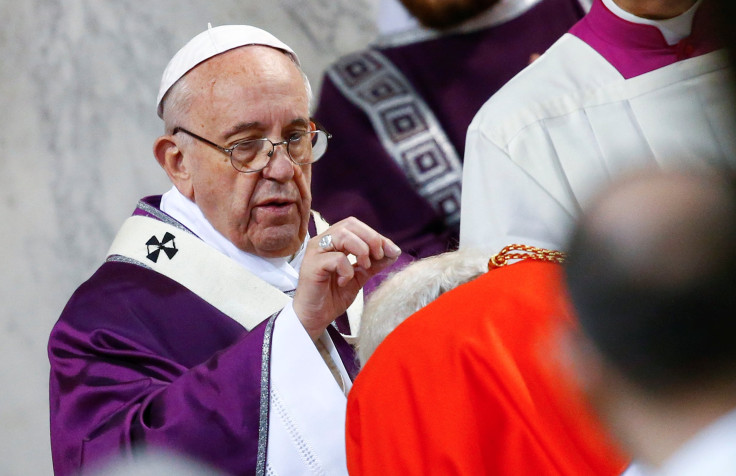 Pope Francis suggested the Catholic Church may consider allowing some married men to become priests, changing a longtime tradition in order to solve a worldwide shortage in clergy members, according to an interview published Thursday by German weekly newspaper Die Zeit.
Francis, known for his progressive theological views since becoming pontiff in 2013, said the church should not fear change and should embrace new approaches in addressing major institutional issues such as a global lack of priests. The church has typically enforced a practice known as clerical celibacy, through which clergy members who have assumed the role of priest or higher are expected to devote their life to God and sacrifice the possibility of getting married or starting a family.
Francis said that, although giving priests in training the option to be celibate or not was "not the solution," he could turn to the so-called "veri probati" or "tested men" already involved in the church to bolster the number of priests.
Read: Lent 2017: 12 Pope Francis Quotes About Love And Mercy
"We must think about whether viri probati are a possibility," Francis said, according to Agence France-Press. "Then we have to decide what tasks they can take on, for example in remote communities."
Clerical celibacy has never been adapted as a doctrine of the church because nothing in the Bible suggests priests should not be married. A number of priests in the early days of the church including Peter, an apostle of Jesus and the first pope, were married as well, so the practice could easily be undone by Pope Francis.
However, Catholic leadership traditionally argued a man could only devote his life to one calling, either marriage or clerical life. Additionally, he should be "in persona Christi" or "in the person of Christ" and maintain his celibacy like the church's founder, Jesus Christ.
Clerical celibacy has been the practice of the church since at least the Spanish Council of Elvira in 306, according to author George Sim Johnston, however, there have been exceptions. Priests from other sects of Christianity, such as Lutheranism or Episcopalianism, where marriage has been allowed for clergy, have been accepted as Catholic priests with the permission of their wives.
Read: Why Can't Women Be Priests? Pope Francis Points To Key Church Document
Pope Francis had previously ruled out the possibility of allowing women to become priests, pointing to prior papal declarations as theological evidence. The pontiff, who was the first to be born in Latin America, has striven to soften the church's hardline stances on issues such as contraception, homosexuality and the possibility of ordaining women as deacons. Deacons support priests and are able to exercise some clerical duties, but cannot officiate mass or hear confessions.
© Copyright IBTimes 2022. All rights reserved.
FOLLOW MORE IBT NEWS ON THE BELOW CHANNELS