Canada Charges Railroad And Three Employees With Criminal Negligence In July Crash That Killed 47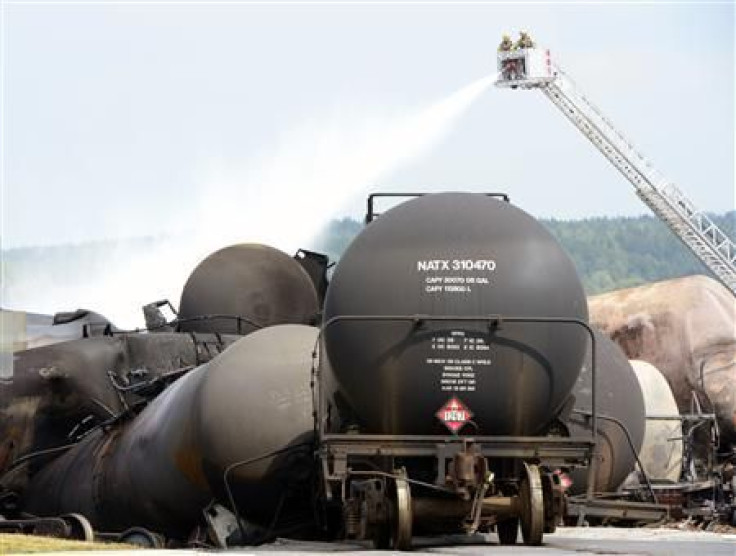 Authorities arrested three Canadian railroad employees on Monday and charged them and their employer, Montreal Maine & Atlantic Railway Ltd., with criminal negligence in the death of 47 people killed when a train carrying crude oil across Quebec crashed in July.
The accident highlighted concerns on both sides of the U.S.-Canada border about the safe transport of crude oil by rail, but Canada's clampdown on the rail industry may not trickle south.
"This is kind of refreshing that we've got a government in Canada at least that's willing to start enforcing public safety laws," said Bob Pottroff, a trial lawyer from Kansas known nationally for specializing in railroad safety and who is representing plaintiffs in a lawsuit against Union Pacific involving a 2012 rail accident in Texas.
"What is remarkable is that never in the U.S. are you going to see anybody held responsible for that, in that way."
A prime example, he said, is a case from Minot, North Dakota.
When a Canadian Pacific Railway freight train crashed there in 2002 it released a cloud of poisonous ammonia gas. In that accident one child burned to death and hundreds were injured. Residents were offered and accepted several hundred dollars each to waive their rights to pursue a claim in court.
"Although the railroad did not maintain its track correctly, did not inspect its track correctly, and the substandard track is what caused the train to derail, the federal regulations protected the railroad from lawsuits, not the people from getting burnt to death," Pottroff alleged.
Crash victims haven't stopped seeking civil claims even if authorities aren't pursuing criminal actions.
A commuter on the Metro-North train that derailed in New York in December, killing four people, filed the first lawsuit against the railroad in April. Eddie Russell, a security guard for Sirius XM, filed the suit in Bronx County Supreme Court seeking unspecified compensatory damages and $10 million in punitive damages. Defendants named were Metropolitan Transportation Authority, Metro-North Railroad, the City of New York and the train's engineer William Rockefeller. More than 70 people were injured in the accident.
The accident remains under investigation by the National Safety Transportation Board (NTSB), the federal agency that is also working on determining the cause of the fiery derailment earlier this month in Lynchburg, Virginia, that spilled oil into the James River but did not injure anyone.
In the case Pottroff is handling for plaintiffs, a Union Pacific train collided with a parade float for a veterans' celebration in Midland, Texas, and four veterans died. In November 2013, a National Transportation Safety Board probe blamed city officials and parade organizers for the deaths, not the railroad or the float's driver. Pottroff is representing about 15 veterans and families involved in the accident who are suing the railroad and the trucking company, Smith Industries, in an ongoing lawsuit.
Union Pacific has said there was a track-circuitry problem that is now fixed that may have contributed to the crash as it caused the train to signal its approach only 25 seconds before reaching the crossing. But the railroad has insisted that it provided sufficient warning under federal law, which only requires 20-second warnings, and says the real cause of the crash was that the parade crossed an active track without properly notifying the railroad.
The NTSB relies on the Federal Railroad Administration and the railroad involved in the crash to investigate accidents.
It's not just Canada that's pursued criminal charges recently in deadly transportation accidents.
On Saturday, five people were convicted of multiple manslaughter and causing personal injury over the wreck of the Costa Concordia cruise ship off the coast of Italy in January 2012 that killed 32 people, but only two of the convicts will go to jail. The ship struck rocks off the Italian island of Giglio.
The ship's captain is being tried separately on charges of multiple manslaughter and abandoning ship, and his trial began this week. In Italy, sentences under two years do not usually require prison time except for homicides, not manslaughter. The convictions are the first in the case.
And earlier this month a South Korean ferry sunk and killed 300 people and a subway crash in South Korea injured dozens. South Korean president Park Geun-hye's approval rating has dropped sharply, according to Gallup Korea, due to the slow response of rescue services.
Four officials operating the ferry were arrested last week on charges of accidental homicide and of overloading the ship with cargo, found by investigators to be one of the causes of the disaster.
© Copyright IBTimes 2023. All rights reserved.
FOLLOW MORE IBT NEWS ON THE BELOW CHANNELS