CAW And Detroit Three Reach Tentative Agreement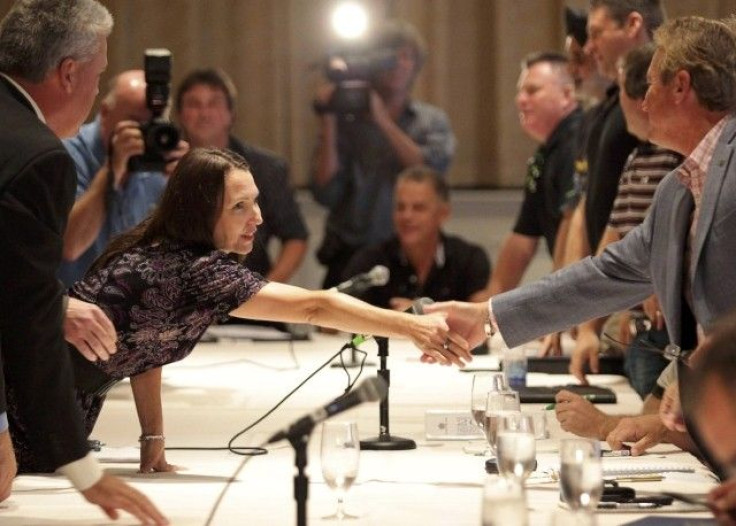 The Canadian Auto Workers (CAW) and Big Three automakers, Ford Motor Company (NYSE: F), General Motors Company (NYSE: GM) and Chrysler Group LLC, reached a denouement to their labor negotiations when the union and Chrysler, the last holdout of the three companies, struck a tentative four-year collective agreement Thursday.
The agreement between the CAW and Chrysler is aligned with the GM and Ford pacts, according to the Montreal Gazette. Talks were stalled between Chrysler, a subsidiary of Italian Fiat SpA (Milan: F), and the CAW for weeks because the company's CEO, Sergio Marchionne, weighed in on the negotiations and pushed back against pattern bargaining, the process by which the CAW and automakers synchronize their labor agreements.
"Pattern bargaining in the CAW is incredibly important, and in the last couple days, especially in the last 24 hours, I think Chrysler has recognized the importance of pattern bargaining," CAW President Ken Lewenza said, according to the Montreal Gazette. "This is not just about a collective agreement. It's about integrity, it's about credibility, it's about making sure that pattern bargaining works in Canada today in every set of negotiations moving forward."
The deal between the CAW and the car companies is expected to slow the departure of the automakers from Canada as the new agreement will allow them to trim costs associated with wages and pension savings, according to Bloomberg News. Canada has developed a reputation in recent years as being the most expensive place in North America to build cars. Under the previous agreement, Ford spent $15 more per hour for each Canadian worker than their American counterparts.
Under the new agreement, the companies agreed to offset layoffs with new investments, according to Bloomberg News, and the union accepted periodic bonuses for employees in lieu of the annual cost-of-living raises they had previously enjoyed. The pay rate for new hires will also fall from its previous level of C$23.80 ($24.25) to C$20.40 ($20.78) per hour. The new agreement freezes wages until June 2016, when cost-of-living raises will be implemented, according to the Toronto Sun.
The carmakers did not agree with the CAW's demand that they bring manufacturing of new products to Canada, according to the Toronto Sun. The agreements are still technically tentative as union employees still must vote to ratify the deals. Ford workers ratified the deal over the weekend and GM employees were expected to follow suit on Thursday, while Chrysler workers are expected to vote on Saturday and Sunday.
© Copyright IBTimes 2023. All rights reserved.