Cecil The Lion: Zimbabwe Asks US To Extradite Walter Palmer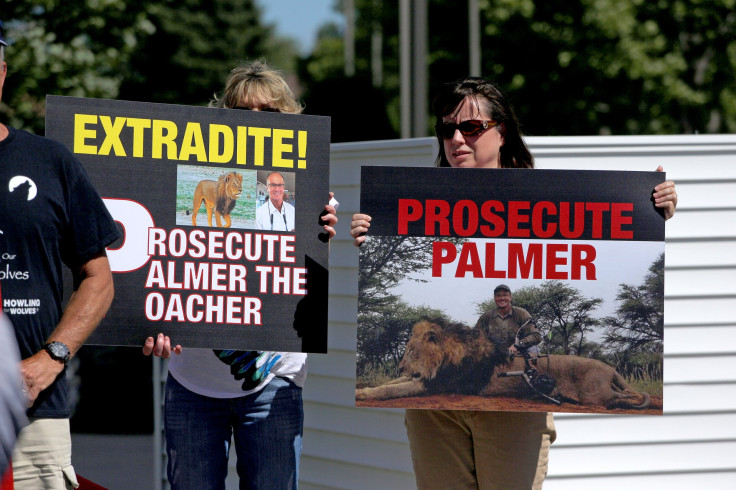 Zimbabwe on Friday asked the U.S. to extradite Walter Palmer, the trophy hunter from Minnesota who shot and killed Cecil the lion. Palmer allegedly paid $50,000 for the hunt early in July and killed Cecil -- an "iconic" attraction -- with a bow and arrow near the Hwange National Park in western Zimbabwe.
"We are appealing to the responsible authorities for (Palmer's) extradition to Zimbabwe so that he can be made accountable for his illegal actions," Oppah Muchinguri, Zimbabwe's environment minister said in Harare, according to Agence France-Presse (AFP), adding: "Unfortunately it was too late to apprehend the foreign poacher as he had already absconded to his country of origin."
Following the killing, Palmer has gone into hiding and has apologized for killing the lion, AFP reported. Palmer also claimed that he was misled by the professional guide Theo Bronkhorst, who arranged the expedition. Bronkhorst was charged with "failing to prevent an illegal hunt" and was given a bail by a court in Hwange court on Wednesday.
Earlier this week, Safari Club International cancelled Palmer and Bronkhorst's membership and said that it wants a "full and thorough investigation" into Cecil's death. The club said, according to the Associated Press, "Those who intentionally take wildlife illegally should be prosecuted and punished to the maximum extent allowed by law."
Cecil's head and skin were reportedly taken as trophies but have since been located. The lion was allegedly lured out of the national park with food and was then shot with a crossbow. Reports also said that the lion reportedly did not die until July 6 -- about 40 hours after it was shot.
The lion was also being tracked by the Oxford University as part of a study and was easily recognizable by his size. According to estimates by the African conservatory, approximately 10,000 to 15,000 free-roaming lions remain in Africa today, down from 50,000 a decade ago.
© Copyright IBTimes 2023. All rights reserved.