Cecil The Lion Hunting Crime Fatwa: Musim Group Calls For Justice In Zimbabwe Poaching Case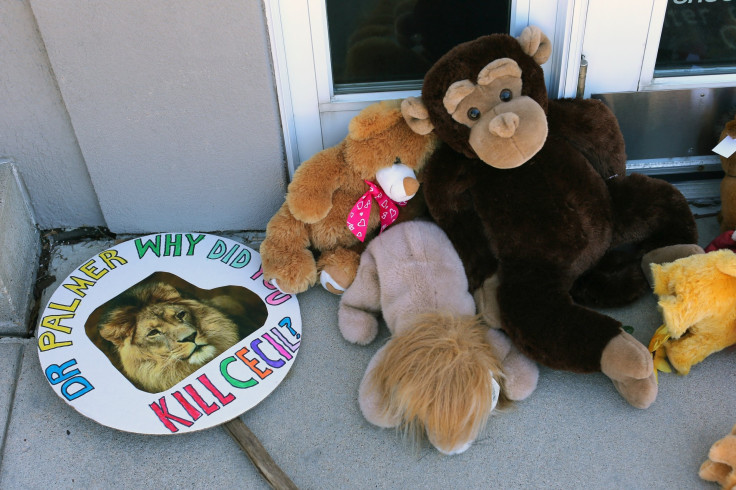 It's not just animal rights advocates with People for the Ethical Treatment of Animals (PETA) and conservationists condemning the killing of a prized African lion in Zimbabwe earlier this month. Dar al-Iftaa al-Masriyyah, a renowned center for Islamic scholarship in Egypt, has passed a fatwa calling for "immediate action" to be taken over Cecil's death.
"Islam calls on humanity to treat animals and all Allah's creation with mercy," the statement, posted to the organization's Facebook page, reads. "Islam punishes those who are unmerciful to Allah's creation."
Cecil was a popular tourist attraction for visitors at the Hwange National Park in Zimbabwe. A big-game hunter, identified as American dentist Walter Palmer, paid more than $50,000 to track and hunt the lion earlier this month. A local organizer lured the lion out of the sanctuary so that Palmer could be kill the animal with a bolt from a crossbow.
The killing of the lion has garnered international outrage, and two individuals appeared in court Wednesday on poaching charges over their alleged roles in the lion's killing. Conservationists said the killing would badly damage their efforts to preserve the species in a country that has struggled to stem the effects of poaching. Jane Goodall, the famed primatologist, called the killing "incomprehensible," International Business Times reported.
The Dar al-Iftaa statement, written with the hashtag #Cecil_Hunting_Crime, said hunting was Islamically permissible only for reasons that were directly to the benefit of human beings, and referred to hunting for sport as a "heinous act."
"Islam, the religion of mercy, has called for showing mercy and kindness to animals 14 centuries ago. All the creation of Allah must be respected and venerated," the statement reads.
Dar al-Iftaa regularly publishes religious rulings on its Facebook page and website on matters of religious creed, politics, finances and ethics. The institute is sanctioned by Egypt's Ministry of Justice and seeks to make issues of Islamic significance widely available throughout the Muslim world, its website says.
© Copyright IBTimes 2022. All rights reserved.
FOLLOW MORE IBT NEWS ON THE BELOW CHANNELS