CES 2015: At MakerBot, Martha Stewart And User Designs Take Center Stage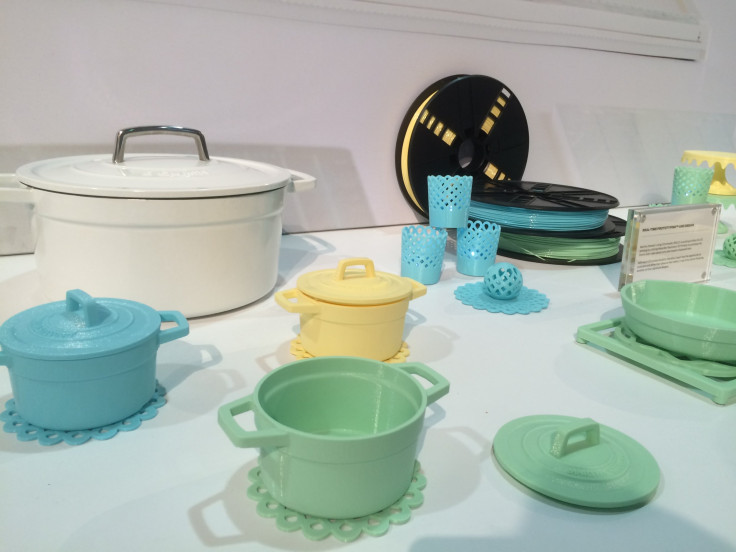 LAS VEGAS -- There's no shortage of 3D printers lining the show floor at the 2015 International Consumer Electronics Show this week. The disruptive technology spread dramatically in 2014, and now just about anything you can think of -- from custom action figures to industrial parts -- is being created with it. Among some of the notable 3D developments unveiled at CES included housewares from Martha Stewart and amateur designs by schoolkids.
3D-industry leader MakerBot presented an entire line of houseware items from Martha Stewart Living Omnimedia, through a partnership established in November. An initial set of designs such as coasters, napkin rings and place card holders is expanding to a larger collection, for which prototypes were on display, including a Dutch oven, a cake stand and cake toppers.
"Design is a huge piece of our business," MakerBot President Frank Alfano said. "You can make things faster and you can iterate. So now a designer can design something during the day and put it into a MakerBot and print it out overnight -- where before MakerBot, you couldn't have it for three, four weeks."
While this is one of many examples of design uses of MakerBot 3D printers, the technology isn't limited to commercial use. Alongside the line of Martha Stewart housewares were also a number of 3D-printed objects from the Whitby School, which uses the technology to teach design and engineering skills to students from pre-K through eighth grade.
Alfano said that "2015 is really the year of our users. And what we wanted to do for MakerBot at CES this year was to showcase them."
In addition to the user designs showcased by MakerBot, the firm also unveiled a number of new products including filaments made of composites with real wood, metal and stone that enable sturdier prototypes, such as a wood-like handle for a hammer.
© Copyright IBTimes 2022. All rights reserved.
FOLLOW MORE IBT NEWS ON THE BELOW CHANNELS