CES 2021: Smart Masks Are Here With Binatone's MaskFone
KEY POINTS
Binatone's MaskFone combines a face mask with Bluetooth earbuds and a microphone
The mask features a pouch for replacable filters, including N95 filters
Phone controls are built into the mask to allow for easy use
UK-based telecommunications company Binatone saw the need for face masks rise in 2020 and knew there was a way to make a product that not only saved lives but made wearing a mask more convenient. At this year's CES 2021, Binatone revealed their latest product, the MaskFone.
The MaskFone is pretty much exactly what it sounds like. It's a protective face mask that has integrated Bluetooth earbuds set up. This allows wearers to easily make phone calls and listen to music without having to worry about any additional hardware.
There are two main components to the MaskFone, there is the mask and the Bluetooth components. Let's start with the mask.
The mask is made out of twill fabric and includes a pouch to slip in PM 2.5 or N95 filters. Because the mask uses replaceable filters, the mask can be reused multiple times without concern. The MaskFone also has adjustable straps so it shouldn't create too much tension on your ears.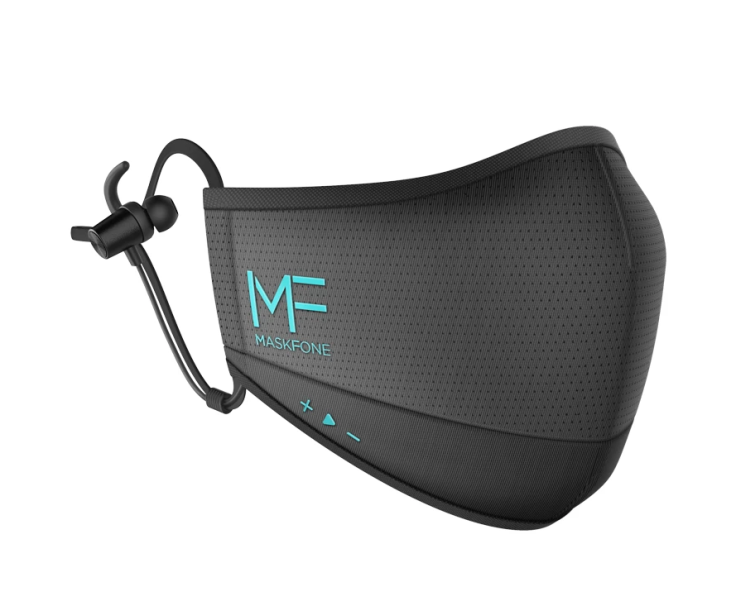 The real magic of the MaskFone, however, is with its Bluetooth hardware. The mask features a pair of earbuds that are wired to the mask itself. These aren't true wireless earbuds like AirPods, but still do not directly connect to any other device. That means if you are wearing the MaskFone and you do not want to have the earbuds in your ears, simply use the included magnetic earbud holder so they aren't just dangling around your jawline.
The Bluetooth microphone included with the earbuds has been positioned to be right by a wearer's mouth. This makes calls and conversations much clearer as muffled mask sounds have been reduced. Buttons have also been built right into the mask itself to allow wearers to answer and hang up on phone calls, start and stop music, adjust volume, and interact with Amazon Alexa without having to interact with a phone screen.
The MaskFone earbuds can run for 12 hours on a single charge and can be recharged. The earbuds also feature IPX5 water-resistant capabilities, allowing the mask to be washed both by a machine or by hand.
Binatone also used CES 2021 as a way of teasing another mask design called the MegaFone. The MegaFone features a detachable voice amplification device, allowing wearers to communicate easily with those around them. Additionally, the MegaFone is said to use a mesh network to connect to other nearby MegaFone devices for a "walkie-talkie" like way of conversing. Details on the MegaFone are limited, for now, so we'll have to wait on Binatone to make another announcement to learn more.
The MaskFone is currently available through maskfone.com for $49.99 and comes with three replacement PM 2.5 filters. Additional replacement PM 2.5 or N95 filters are also available for purchase. MaskFone will start retailing at other stores including Amazon and Target in February. No release information has been provided for the MegaFone.
© Copyright IBTimes 2023. All rights reserved.
FOLLOW MORE IBT NEWS ON THE BELOW CHANNELS