CES 2023: NVIDIA Launches RTX 4070 Ti Desktop GPU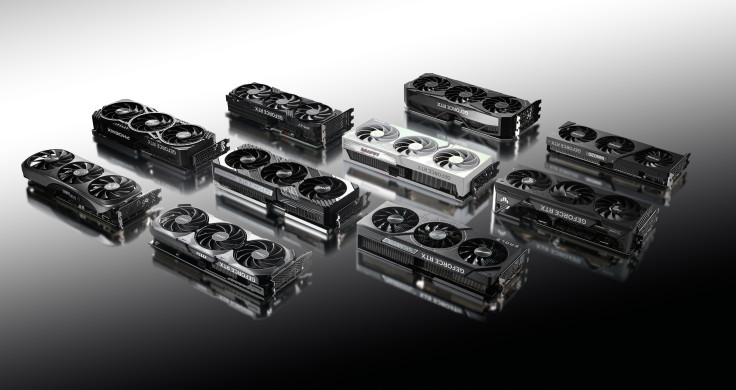 KEY POINTS
The 4070 Ti features better performance than its predecessors
The GPU's power consumption is almost half of the 3090 Ti's
The 4070 Ti shares the same specs as the unreleased 4080 12GB
NVIDIA has formally revealed the RTX 4070 Ti, one of its latest desktop GPU models, slated to go live in retail stores on Thursday.
The RTX 4070 Ti, which debuted during NVIDIA's CES 2023 keynote, features the Ada Lovelace architecture, which boasts a massive leap in performance and power efficiency compared to Ampere. The company emphasized this difference by directly comparing it to the RTX 3090 Ti, the best performer in its series.
According to NVIDIA's benchmarks, this new graphics card outshines the 3090 Ti with performance boosts that range between 20% and 300%. The company also said they aim to achieve the 1440p, max-setting sweet spot many gamers crave.
As far as efficiency goes, the 4070 Ti consumes about half as much power as the 3090 Ti. The newer card reportedly idles at 12W, and when gaming, its average consumption totals to around the 225W mark. Meanwhile, the 3090 Ti sits at 15W and 398W in the respective categories.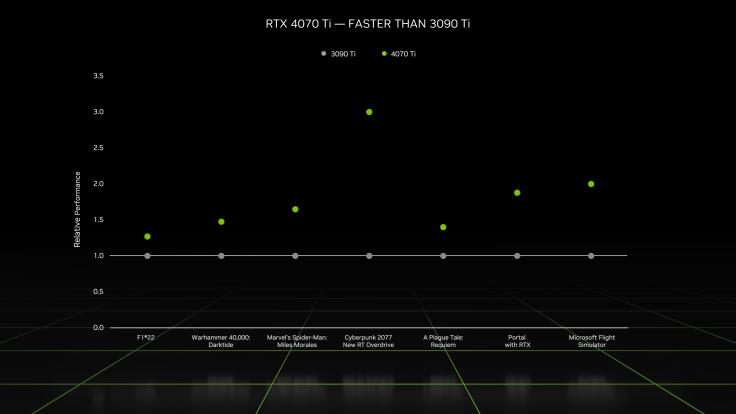 Naturally, the 4070 Ti is compatible with NVIDIA's DLSS 3 upscaling tech that greatly boosts image quality and performance in games.
However, the current number of games that actually support DLSS 3 remains relatively low at 50. Gamers may not be able to take full advantage of this tech with all the titles they want to play, but its importance will become more relevant as newer titles come out.
It also allows the use of AV1, a next-gen codec that lets live-streamers push for higher video resolutions and frame rates as they broadcast.
The card also lends itself well to 3D creators who use popular software like Blender and the Unreal Engine, as it reportedly offers a 70% performance increase over the professional-preferred 3070 Ti for rendering.
Going down to the nitty-gritty details, the 4070 Ti sports the following:
7680 CUDA Cores
12GB GDDR6X Memory
2.61 GHz Boost Clock
Max display resolution of 4k at 240Hz or 8k at 60HZ w/ DSC
If these seem familiar to anyone, that's because the 4070 Ti shares the same specs as the ill-fated RTX 4080 12GB, which was launched and then removed from stores late last year following harsh backlash regarding its odd specs compared to a normal 4080.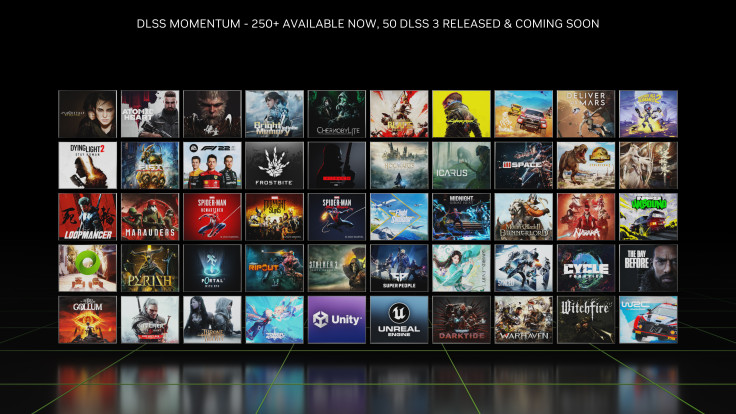 © Copyright IBTimes 2023. All rights reserved.