In China, Apple Watch Arrival Attracts Enthusiastic Fans, And A Few Skeptics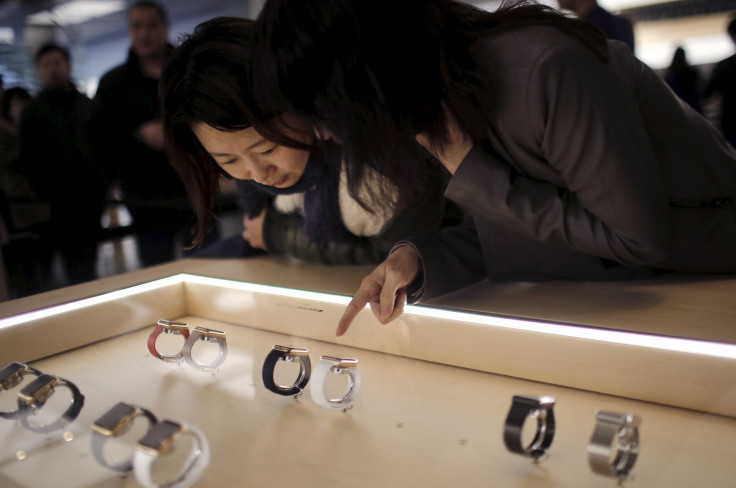 SHANGHAI -- China is a key market for Apple Watch: The country has already become the No. 1 buyer of iPhones, and many analysts believe that the more expensive versions of the watch were designed at least partly with China's high-end consumers in mind. The advance buzz in China has been big, with people inquiring in stores about availability for weeks now -- and some banks even offering special loans to customers planning to buy the watch.
At one of Shanghai's four Apple Stores, in a luxury downtown shopping mall, there were no major lines in advance on Friday, as there had been for the launch of the iPhone 6 last year -- but there were plenty of people waiting nearby for the 3:01 p.m. (local time) unveiling of the watches in their display cases.
Soon there were several hundred people clustered around -- and a 30-minute waiting time for appointments for the chance to try one of the watches, in a special area that had been cordoned off for the purpose. Before 5 p.m., sales staff said the company had already gotten so many orders for the luxury Edition version around China that customers might now have to wait until June for delivery, rather than the original April 24 delivery date.
'We Want To See The Real Thing'
Many people were coming in as they finished work or school. Mr. Xu, a 28-year-old catering manager for a chain of restaurants, arrived with his friend to take a look. "We've seen all the pictures and videos," he said. "Now we want to see the real thing for ourselves."
They hadn't come with particularly high expectations, it seemed. "It's not as ugly as I'd expected!" said his friend. And in a country where watches are often worn to impress, they weren't convinced that it would be suitable for every occasion. "It's fine for leisure wear," Xu said, gazing at the Apple Watch Sport with its brightly colored straps. "But if I'm going to work wearing a suit I'd feel this was too casual. Men who wear a watch will still prefer metal ones."
Xu said he normally wore a watch costing around $500 when he went to the office; the more elegant versions of the Apple Watch, however, were a little too expensive. But he was in no doubt that the product would appeal to many young Chinese consumers.
"There are a lot of 'Apple fans' in China, so lots of them will buy it," he grinned. "And others will too. It's like me, I wouldn't call myself an 'Apple fan' (known in Chinese punning slang as a 'guofen'), but I still have my iPhone 6!"
For the moment though, he wasn't planning to rush into buying the watch. Its functions were "quite limited," he said, and he was concerned about needing to charge it after 18 hours.
"I think the first generation, when it's just come out, isn't the best choice," he explained. "When you get to the second or third generation and they've improved all the functions, that's the best time to buy, so for the moment I'm just looking."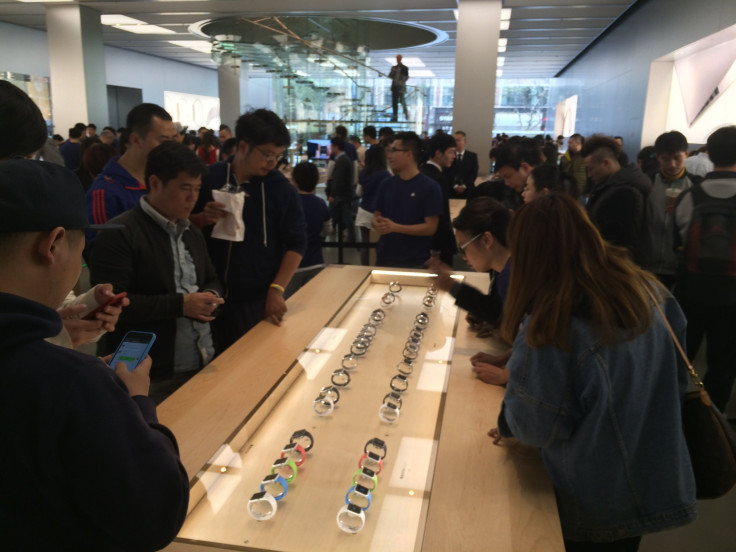 Ms. Zhang and her two girlfriends, all in their early 20s, had no such doubts. Proudly describing themselves as Apple fans, they pored giggling over the different versions of the Apple Sport, as they waited for their appointment to try one on.
"I really like it," Zhang said. "It's relaxed, and good value -- and I think there's something quite special, quite mystical about it."
"Yes," said her friend. "If you're in a shop trying to choose a pair of shoes, it will read your heart and tell you which one you want to buy. No more indecision!" she laughed.
The three women had come from their jobs at a nearby entertainment company. Some of their friends had already placed orders today, they said -- not put off by the 2-4 week waiting time staff were now quoting for the Sport version. And Zhang and her friends were sure they would follow suit.
Others were just dreaming of buying one. A 15-year-old high school student, wearing his school track suit, said the price of the Sport was affordable -- but he would have to wait until he went to university to get the model he really wanted, the Milanese version of the Apple Watch, with its designer strap, selling for more than $650. He said many of his friends at school already had smartwatches, and there was a lot of interest in the Apple Watch.
'What's The Point?'
But not everyone was convinced. "I don't think there's any need for it. I don't think the price or the functions are so good, and it doesn't appeal to me," said Alex, a fashion planner in his late 20s. "I don't know why they're making such expensive ones. What's the point?"
Alex had to come to the Apple Store after forgetting his iCloud password for his iPhone 6 -- and he wasn't happy about it.
"I only just got this. I used to have a Nokia," he said. "Apple make things so complex, you have to answer three security questions. There are lots of things about Apple that aren't so convenient," he grumbled.
And like many young people in China, Alex added that he was simply not used to wearing something on his wrist.
"I don't wear a watch," he said. "I've never worn one, and I don't want to. I just feel it's not necessary."
As in other markets, persuading a young generation, many of whom are out of the habit of wearing watches, that they need the new product will be one of Apple's biggest challenges. And in China, it may also face more challenges from fakes and cheap alternatives. But in a nation where Apple is now seen as the most desirable brand for giving as a gift, according to one recent survey, it seems likely that the Apple Watch will find no shortage of buyers among the urban middle class.
© Copyright IBTimes 2023. All rights reserved.