China Factories Scrabble For Growth In May, Export Demand Shrinks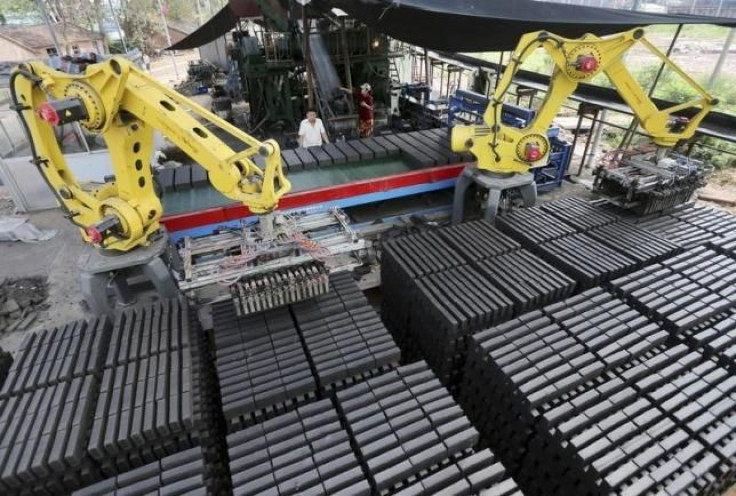 Growth in China's giant factory sector edged up to a six-month high in May but export demand shrank again, prompting companies to shed jobs and keeping alive worries about a protracted economic slowdown, a government survey showed on Monday.
In a sign that China's worst downturn in at least six years is hurting its services companies, too, a similar survey showed growth in that sector slipped to a low not seen in more than five years.
Services have been one of the lone bright spots in the Chinese economy in the last year.
The muted reports reinforced the view that authorities would have to roll out more stimulus in coming months, despite having cut interest rates three times in six months.
"China's economy still faces strong headwinds," economists at ANZ Bank said in a note to clients.
"If capital outflow continues at the pace of the first quarter, we expect the People's Bank of China to cut the reserve requirement ratio by another 100 basis points, in addition to a further interest rate cut of at least 25 basis points."
The official manufacturing Purchasing Managers' Index (PMI) edged up to 50.2 from April's 50.1, the National Bureau of Statistics (NBS) said on its website, in line with analysts' forecast for a 50.2 reading.
A reading above 50 points indicates growth on a monthly basis, while one below that points to contraction.
The non-manufacturing PMI, on the other hand, slipped to 53.2, a trough not seen since December 2008 and compared with April's 53.4, the NBS said.
However, Zhang Liqun, an analyst at the China Federation of Logistics and Purchasing, which helps to compile the government PMI polls, argued that a rise in overall new orders in factories pointed to some steadying in market demand.
"This shows stabilization in economic growth," Zhang said.
BETS ON MORE AGGRESSIVE EASING
China's economy has sputtered this year as a cooling housing market and slowing growth in exports, domestic investment and consumption knocked growth to a six-year low of 7 percent in the first three months of the year.
In addition, a frothy Chinese stock market that has nearly doubled .CSI300 in the last 18 months is feeding concerns that easier credit policies are driving up share prices and fuelling speculation, drawing money away from real economic activity and further complicating policy making.
While official surveys tend to center on larger, state-owned firms, a private survey that focuses on small and mid-sized factories showed growth shrank for the third straight month as export orders fell at the sharpest rate in nearly two years.
The final HSBC/Markit PMI stood at 49.2 in May, little changed from a preliminary reading of 49.1, and up a touch from April's 48.9.
"Five months into 2015, the economy sees little sign of a pickup," HSBC said in a note on Monday, adding that an index created by the bank suggests that monetary conditions in China have tightened.
"We forecast more aggressive policy easing, including a 50-basis-point reserve ratio cut in the coming weeks," HSBC said.
As the economy cools, the country has fought persistent deflationary pressure, which has in turn kept real interest rates stubbornly high.
Morgan Stanley said in a report this month that real interest rates in China are over 3 percent, well above real rates in Japan, Europe and the United States, where borrowing costs are negative.
Given that China's flurry of policy easing has yet to arrest its economic downturn, an economist at a state think-tank warned over the weekend that the world's second-biggest economy is unlikely to rebound soon.
Instead, he said growth would stabilize at a lower level and at best track a "L-shaped" trajectory.
China's economic growth is expected to slow to a quarter-century low of around 7 percent this year from 7.4 percent in 2014.
As the first major indicator that is released each month, China's official manufacturing PMI is closely watched by investors for clues about the health of the Chinese economy.
© Copyright IBTimes 2023. All rights reserved.