China Leads Apple IOS, Google Android Activations Worldwide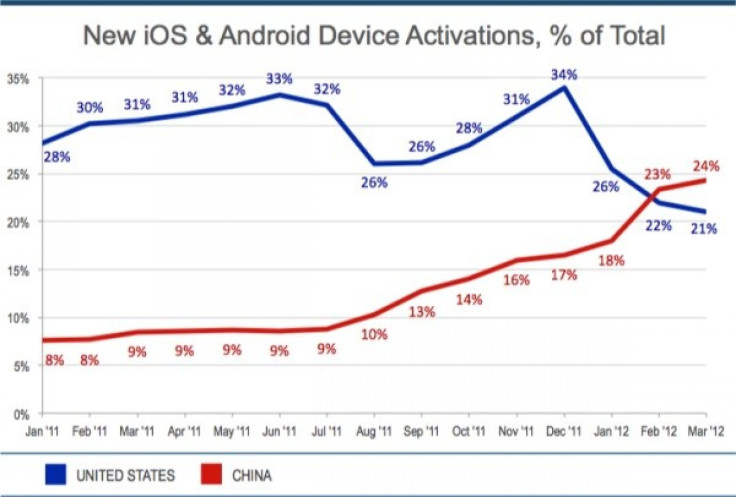 China has reached another important benchmark as a consumer electronic device hotbed: For the first time ever, the country has more iOS and Android activations than the U.S., taking the number one spot globally.
Flurry, the market analysis company, reports that Chinese users on both platforms activated more devices than people in any other country. In addition to adopting smartphones and tablets at a rapid rate, Flurry reports that app usage in China is quickly rising.
From the first quarter of 2011 and first quarter of 2012, China's app session growth -- defined as the time when someone launches and uses an app -- has increased by 1,126 percent. The dramatic growth rate is far above any other country. Argentina, which had the second most app session growth, only grew by 599 percent.
China's growth rate is particularly staggering given that it was already the world's 7th largest country in terms of app sessions by the end of Q1 2011, said Flurry. This speaks to the country's sheer population as well as increasing affluence among a meaningful part of its population.
Despite growth in app sessions and activations, China is still behind the U.S. in total number of consumers that have purchased smartphone and tablet devices. We estimate that the U.S., a more mature market, currently has more than twice as many active devices than China, says Flurry. However, China, a faster growing, emerging market, already has twice as large an installed base as the next largest market, the UK.
The study also notes that smartphone and tablet adoption rate is nearly four times greater than the PC adoption rate in the 1980s and twice as great as PC adoption since the 1990s.
© Copyright IBTimes 2023. All rights reserved.
FOLLOW MORE IBT NEWS ON THE BELOW CHANNELS