China Navy Ships In Bering Sea: Combat Ships Near Alaska For First Time, As Obama Tours State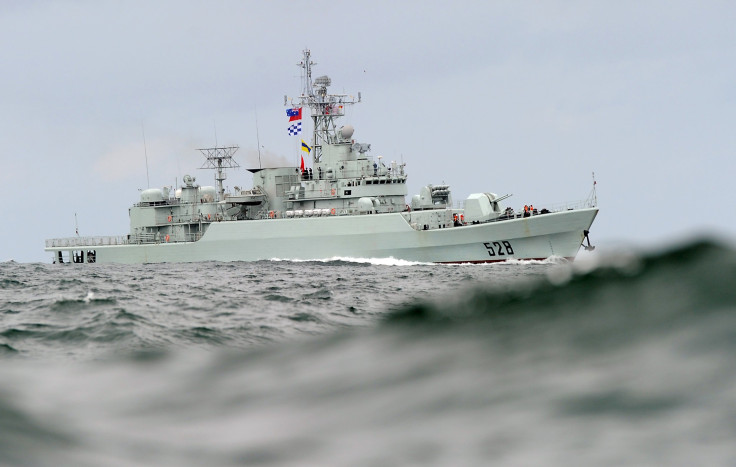 Pentagon officials confirmed Wednesday that five Chinese ships, including combat vessels, were in the Bering Sea, near Alaska, where President Barack Obama was on a three-day trip to highlight the issue of climate change. The ships' deployment -- so far from China's home waters, and so close to the U.S. coast -- was a vivid demonstration of how China sees its role in the world expanding as its economic interests become increasingly global.
Two U.S. defense officials, speaking to Agence France-Presse on condition of anonymity, said the U.S. had identified three combat vessels, a replenishment vessel and an amphibious landing vessel from China's People Liberation Army Navy (PLAN).
Pentagon officials, while monitoring the ships' activities, said that the vessels were not engaged in any threatening behavior. The vessels were in international waters near the Aleutians, a chain of islands close to the Alaskan mainland that are split between U.S. and Russia.
"We respect the freedom of all nations to operate military vessels in international waters in accordance with international law. We are aware of the five People's Liberation Army Navy (PLAN) ships in the Bering Sea," Pentagon spokesman Navy Cmdr. Bill Urban told AFP.
Officials and experts offered varied interpretations of what the ships' deployment could mean.
"We better get used to it," Bonnie Glaser, a senior adviser on Asia for the Center for Strategic and International Studies in Washington, told the Wall Street Journal. "The Chinese navy is taking on more and more of an expeditionary character. … The Chinese navy is going global."
An anonymous Pentagon official also told the Journal that the deployment could indicate an interest in the Arctic region, a region rich in natural resources. Other U.S. defense officials said Beijing's intent was unclear.
Relations between China and the U.S. have been under strain in recent months, after a series of cyberattacks targeted U.S. companies and government organizations. While not officially blaming China for the attacks, U.S. officials have not concealed the fact that they believe Beijing is behind them.
The U.S. has reportedly been developing possible sanctions against China in response to the cyberattacks, an issue that will no doubt be raised during Chinese President Xi Jinping's state visit to Washington later this month.
U.S.-China relations have also been strained in recent months by China's land reclamation activities in the South China Sea, on the disputed Spratly Islands. The U.S. does not recognize China's sovereignty over the islands, and treats the waters surrounding them as international, while China claims the area is part of a military exclusion zone that it controls.
Dean Cheng, a China expert at the Heritage Foundation think tank in Washington, told Reuters the presence of the ships in the Bering Sea sent a message ahead of Xi's visit.
"That message is, in a nutshell, 'Stop pushing us. We are not going to be lectured'," he said.
© Copyright IBTimes 2023. All rights reserved.